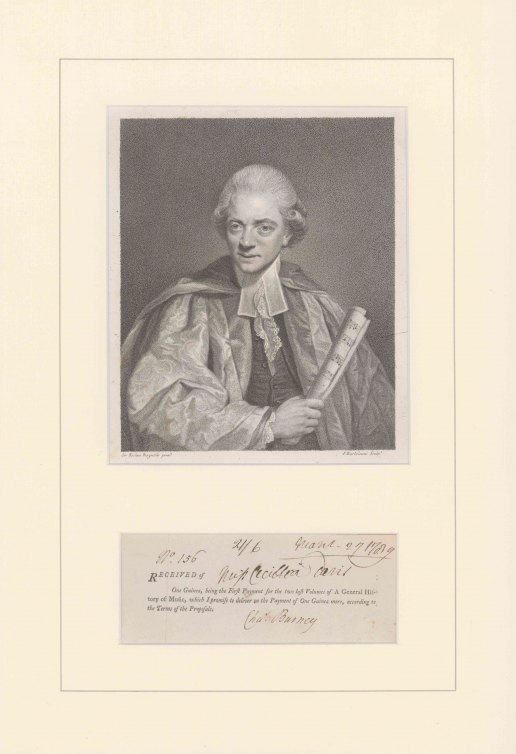 Click Image to Zoom
Enlarge Image
BURNEY - SIGNED RECEIPT
Burney, Charles (1726-1814)
Matted Ensemble with Engraved Portrait and Receipt Signed
"Chas. Burney". March 27, 1789. Total size in mat: 18" h x 12.5" w. In excellent condition. Receipt with typical folds and a very small hole affecting the word Payment.
An original receipt for Burney's History of Music.
Burney signs a receipt for a young lady in the process of purchasing his General History of Music, acknowledging that he has received One Guinea, being the First Payment for the two last Volumes…which I promise to deliver on the Payment of One Guinea more, according to the Terms of the Proposals. The great musicologist also numbers and dates the receipt at the top.
The engraved portrait is by Francesco Bartolozzi after an image by Joshua Reynolds. It was published in 1784 and depicts Burney at the time he was finishing his history.
The year of this receipt saw the publication of the final two volumes of Burney's
A General History of Music
, a work he had started writing in 1773 and which had been published in installments beginning in 1776. The person for whom this receipt was completed seems to have been a subscriber from the start, paying in 1789 for just two books (rather than for the whole set of four at once).
Burney's history was a critical success but endlessly positioned as the rival study to Sir John Hawkins' General History of the Science and Practice of Music, which also first appeared in 1776. Scholars continue to debate the merits of both histories, but Burney's is generally acknowledged as the more accessible to an amateur readership. It also possesses a greater sensitivity to works of the mid and late eighteenth century, as evidenced in part by his extended consideration of Handel's output. Burney had been given special access to the king's collection of Handel manuscripts for the purpose.
ALS-14493
$3,200