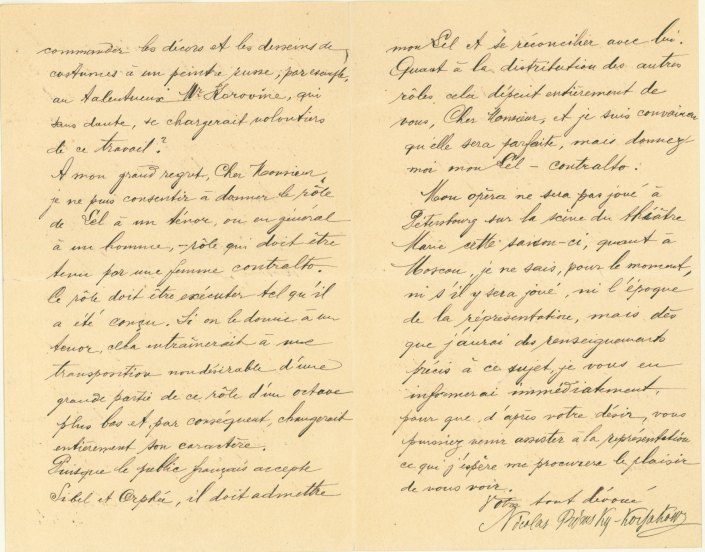 Enlarge Image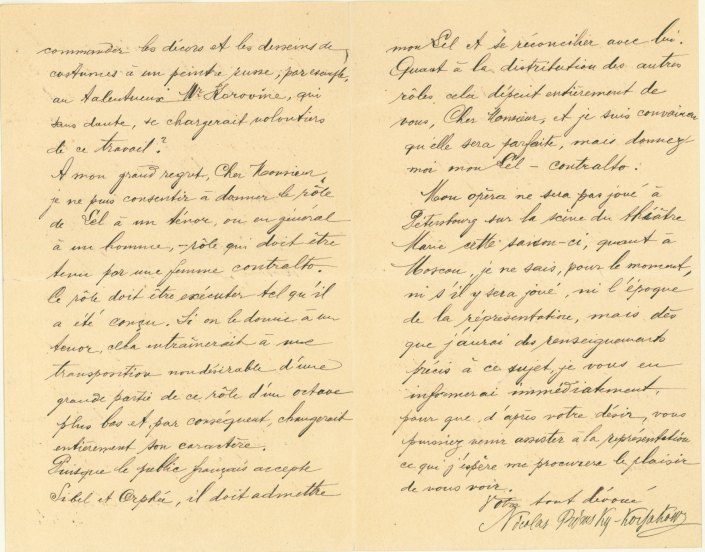 Rimsky-Korsakov, Nikolai (1844-1908)
Secretarial Letter Signed
"Nicolas Rimsky-Korsakov". St. Petersburg, Russia, September 9, 1907. Three pages of a folded sheet of stationery. Excellent condition.
The composer's concerns about the first Parisian production of Snegorchka
.
A very interesting letter with important musical content written in French to Albert Carré, the director of the Opéra Comique, concerning the first production in Paris of Rimsky-Korsakov's opera Snegorchka (The Snow Maiden). The composer writes that he has just received the translation of the libretto, which he will examine as soon as possible, and adds that Mr. Bessel will write in a few days about the "matériel musicales." He goes on to explain that it is impossible to perform Snegorchka in St. Petersburg, but rather only possible in Moscow, which has Vasnetsov's sketches, and to which Rimsky-Korsakov does not have access. He asks if there is any possibility of finding a Russian painter in Paris to design the sets and costumes.
He insists at length that the role of Sel be played by a woman contralto, explaining that a tenor would unacceptably change the character and assuming that the French would be able to accept a trouser role particularly because they are accustomed to the role of Gluck's Orpheus. Rimsky-Korsakov leaves the remainder of the casting to the discretion of Carré. The composer concludes that his opera will not be performed in St. Petersburg this season, but will write as soon as he knows if it will be performed in Moscow, since Carré has asked to attend a performance in Russia.
Snegorchka was composed in 1880-81. The first performance was given in St. Petersburg in 1882. As per Grove's Dictionary: Rimsky-Korsakov, who thought The Snow Maiden his finest work, intended to write a book on the opera, analyzing it from standpoints both technical and poetic. He only managed, in the summer of 1905, to jot down an outline and a preliminary classification of themes.
ALS-14481
$1,850