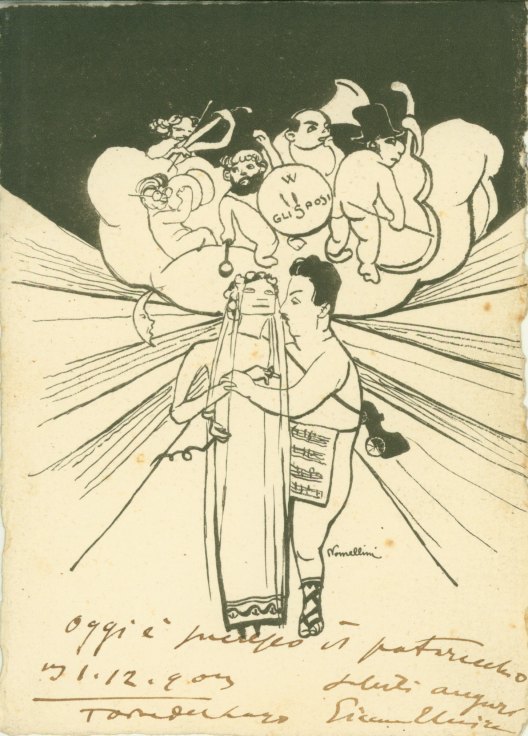 Click Image to Zoom
Enlarge Image
PUCCINI'S AMAZING WEDDING ANNOUNCEMENT!
Puccini, Giacomo (1858-1924)
Very Rare
Torre del Lago, Dec. 31, 1903. Postcard size card (4.75"h x 6.34" w). Puccini has penned under the image: Oggi è presso il pateracchio. (Today we're getting close to the bad contract), signing to the right "Giacomo Elvira". Excellent condition. Together with the original envelope, in an unidentified hand (possibly Elvira's?).
This is the wedding announcement of Puccini's wedding to Elvira Gemignani, the married woman with whom he had a scandalous affair and a child. The rather curious, amusing, somewhat vulgar and altogether wonderful announcement was designed by the well-known painter and friend of Puccini, Plinio Nomellini. Puccini is shown naked except for a bit of music covering his private parts and a toy car slung over his shoulder, cars being one of his other passions. His arms are around the bride, holding his every-present cigarette in one hand. The bride, dress like a Greek goddess, holds up her ring finger and looks heavenward while a group of 5 naked musicians sernade the gli sposi (the wedding couple) from a cloud.
Puccini had met Elvira Gemignani in 1884 and their child was born in 1886. They eventually got married on Jan. 3, 1904, after Elvira's husband Narciso was killed by the husband of a woman that Narciso had an affair with. Oddly, his death occured on 26 February, 1903, just one day after a serious car accident from which Puccini took months to recover and which slowed his work on
Madame Butterfly
.
According to the Puccini biographer Howard Greenfield, this announcement was only sent to a few friends and family members. We have certainly never seen another one. Only Elvira's brother and a local doctor were at the civil ceremony - perhaps the addressee of this card is that local doctor; it was delivered by hand to Dott Parlo Del Parlo, Medico in Lucca.
Puccini was certainly a busy guy at this time - this announcement was sent out only a few days after he finished Madama Butterfly.
ALS-14245
$0