Enlarge Image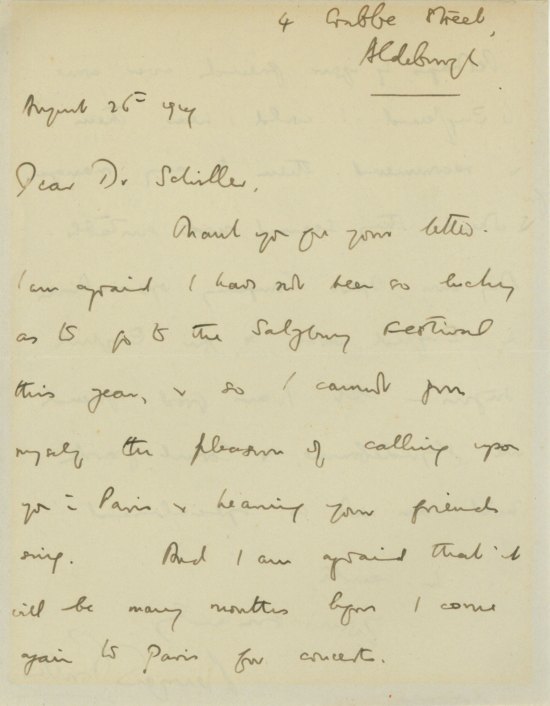 Britten, Benjamin (1913-1976)
Autograph Letter Signed
"Benjamin Britten". To Dr. M. Schiller. Aldeburgh, Aug. 26, 1949. Two sides of a single page with envelope. Overall good; centerfold crease.
Letter from Britten to Dr. M. Schiller in Paris, evidently in response to a request for a visit: Thank you for your letter. I am afraid I have not been so lucky as to go to the Salzburg Festival this year, and so I cannot give myself the pleasure of calling upon you in Paris and hearing your friends sing. And I am afraid that it will be many months before I come again to Paris for concerts. Perhaps if your friends ever came to England I could hear them and recommend them to any manager for which they seemed most suitable. My own Opera Company specializes in English works and for English singers -- but I am good friends with Glyndebourne and Covent Garden which are not so specialized. Yours sincerely.
Britten founded his opera company, the English Opera Group, with singer and partner Peter Pears in 1946. Two years later, the pair would also found the Aldeburgh Festival, which served as a home for the itinerant company and featured a variety of English music.
ALS-14201
$375