Enlarge Image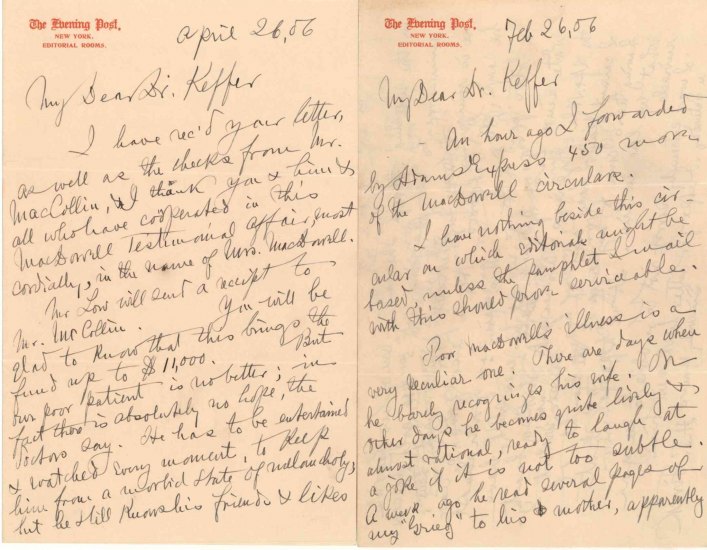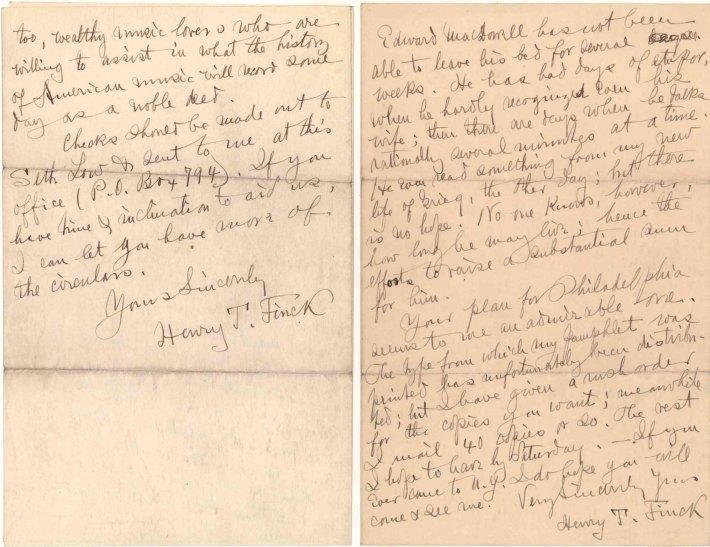 MACDOWELL'S TRAGIC ILLNESS
Finck, Henry T. (1854-1926)
Group of 4 letters
New York, on letterhead of The Evening Post, January 23, 1906; February 19, 1906; February 26, 1906; April 26, 1906. Excellent condition.
These letters, apparently unpublished and unknown, are written to Dr. Edward Lungerich Keffer (1861–1933), a Philadelphia dentist and patron of the arts, by the music critic Henry Finck who is seeking to raise funds for the noted American composer Edward MacDowell who is seriously ill, possibly with what is now thought to be bromide poisoning (bromide was a common cure for insomnia at the time). MacDowell was the first music professor at Columbia University but resigned after controversies in 1904 and after which his health rapidly deteriorated, leading to his death at the age of 48 in 1908. These letters contain a detailed description of his tragic physical and mental state in 1906 -
Poor MacDowell's illness is a very peculiar one
. Finck states in his last letter that $11,000 has been raised.
In 1907, the composer and his wife deeded their farm in New Hampshire to the newly established Edward MacDowell Association and founded The MacDowell Colony, the important artist's retreat which is still in existence today and which Marian MacDowell ran for almost 25 years.
Henry Theophilus Finck (1854–1926) was an American music critic on the staff of New York's The Evening Post, a prolific author and a leading promoter in the United States of Richard Wagner and other contemporary composers.
ALS-14003
$500