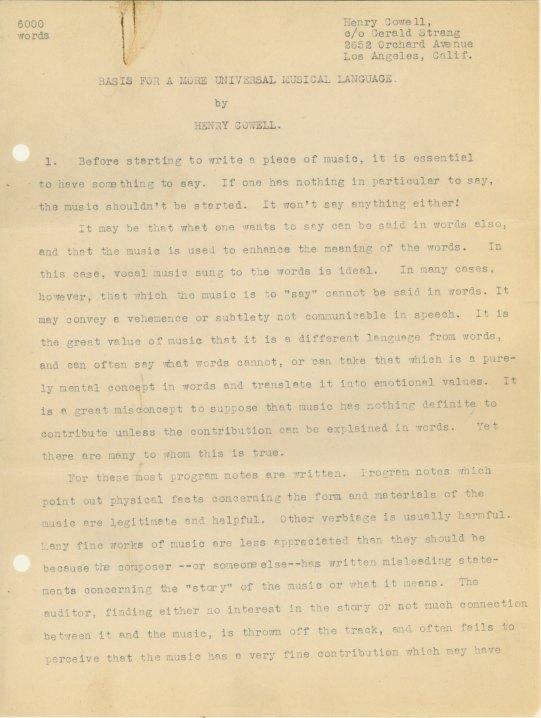 Click Image to Zoom
Enlarge Image
Cowell, Henry (1897-1965)
Typed Document
11" h x 8" w. 20 pp. Overall very good. With paper clip mark on first page, repaired tear on last page, and normal folds. Two hole punches at left margin.
In this interesting essay, evidently unpublished and entitled
Basis for a More Universal Musical Language
,
Cowell attempts to define commonalities and differences among the world's musical languages
and suggests which aspects of those languages might be universally resonant. Cowell tries to make his point by dividing the audience into
four auditors; a stevedore, a Chinese unfamiliar with Western music, a skilled composer, and a social butterfly
, explaining how he believes each would perceive different music based on their unique cultural perspectives.
We believe this essay relates to Cowell's published preface to his own United Quartet (String Quartet No. 4, 1936), which also addresses the integration of multicultural musical languages. Although we have not been able to establish which of these writings came first or how they may have influenced one another, their connection is undeniable. It is also worth noting that the Henry Cowell Papers at the New York Public Library, an enormous collection of varietal documents willed to that institution by Cowell's widow, does not include this essay.
Henry Cowell was an American composer, music theorist, pianist, teacher, publisher, and impresario. His contribution to the world of music was summed up by Virgil Thomson, writing in the early 1950s: Henry Cowell's music covers a wider range in both expression and technique than that of any other living composer. His experiments begun three decades ago in rhythm, in harmony, and in instrumental sonorities were considered then by many to be wild. Today they are the Bible of the young and still, to the conservatives, 'advanced'….No other composer of our time has produced a body of works so radical and so normal, so penetrating and so comprehensive. Add to this massive production his long and influential career as a pedagogue, and Henry Cowell's achievement becomes impressive indeed. There is no other quite like it. To be both fecund and right is given to few [Wikipedia].
ALS-13988
$300