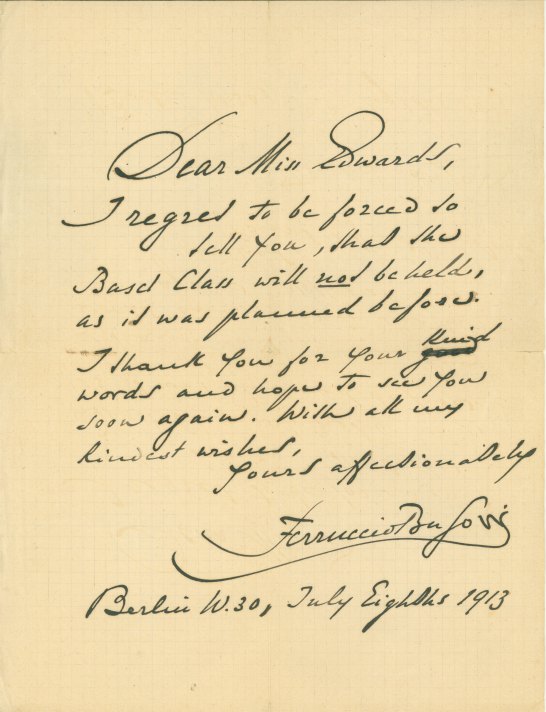 Click Image to Zoom
Enlarge Image
Busoni, Ferruccio (1866-1924)
Autograph Letter Signed
"Ferruccio Busoni". To "Miss Ellen Edwards". Berlin, "July Eighths 1913". 11" h x 8.5" w. 1 page of a large sheet. With original envelope. Very good condition except for tiny tear starting at fold on the right.
The noted Italian composer and pianist has written in beautiful, bold, florid script and in English, informing his correspondent that a class will not be held as planned: I regret to be forced to tell you, that the…Class will not be held, as it was planned before. I thank you for your kind words and hope to see you soon again. With all my kindest wishes.
Busoni lived in Berlin from 1894 until the outbreak of World War I. While there, he conducted as well as composed, taught, and performed also continuing his illustrious tours. As both pianist and conductor, he championed contemporary music and at the time of this letter, 1913, arranged at his own apartment a private performance of Schoenberg's Pierrot Lunaire which was attended by, amongst others, Willem Mengelberg, Edgard Varèse, and Artur Schnabel.
ALS-13213
$600