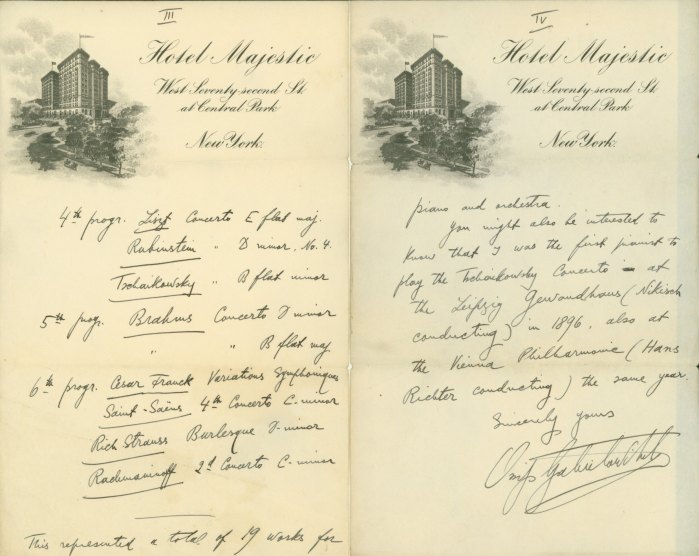 Enlarge Image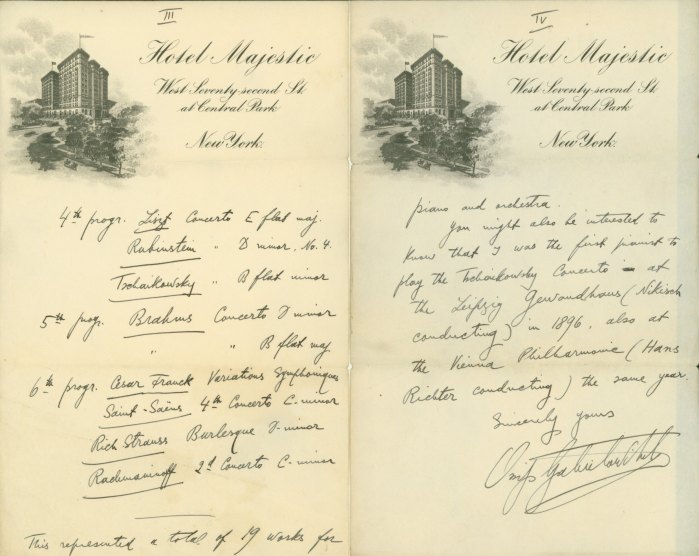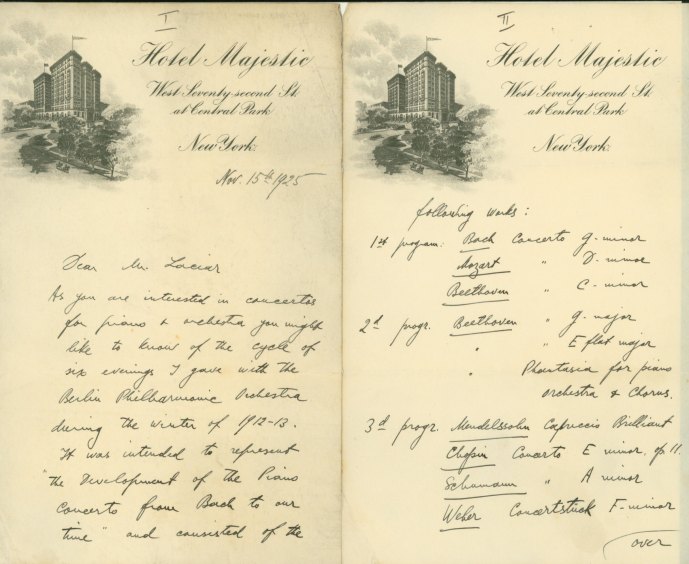 Gabrilowitsch, Ossip (1878-1936)
Autograph Letter Signed
"Ossip Gabrilowitsch". New York, November 15th, 1925. 9.5" h x 6" w. 4 pp. On Hotel Majestic stationery. Overall very good with normal letter folds and some soiling on the back of the last page of the letter.
A wonderful letter in which Gabrilowitsch lays out a fascinating series of performances:
As you are interested in concertos for piano and orchestra you might like to know of the cycle of six evenings I gave with the Berlin Philharmonic Orchestra during the winter of 1912-13. It was intended to represent "the development of the Piano Concerto from Bach to our time" and consisted of the following works…
Gabrilowitsch then outlines the six concert programs in which he played concertos by Bach, Mozart, Beethoven, Mendelssohn, Chopin, Schumann, Weber, Liszt, Rubinstein, Tchaikovsky, Brahms, Cesar Franck, Saint-Saens, Strauss, and Rachmaninoff:
This represented a total of 19 works for piano and orchestra. You might also be interested to know that I was the first pianist to play the Tchaikovsky Concerto at the Leipzig Gewandhaus (Nikisch conducting) in 1896, also at the Vienna Philharmonic (Hans Richter conducting) the same year.
Ossip Gabrilowitsch was a Russian-born pianist who studied with, among others, Anton Rubinstein, Lyadov, Glazunov, and Medtner. He had a wide-ranging career as concert soloist, and was offered the music directorship of the Boston Symphony Orchestra, which he declined, recommending the orchestra hire Sergei Rachmaninoff instead. He was Mark Twain's son-in-law, having married Twain's daughter, Clara Clemens, a singer who appeared with him in recital.
ALS-12796
$400