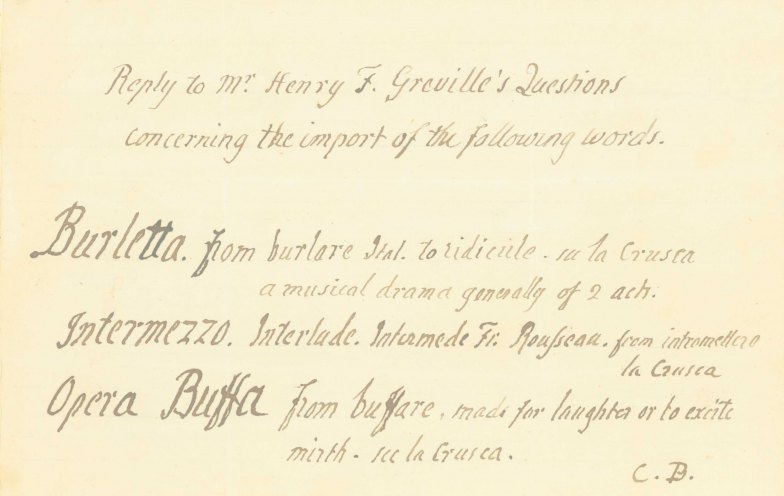 Enlarge Image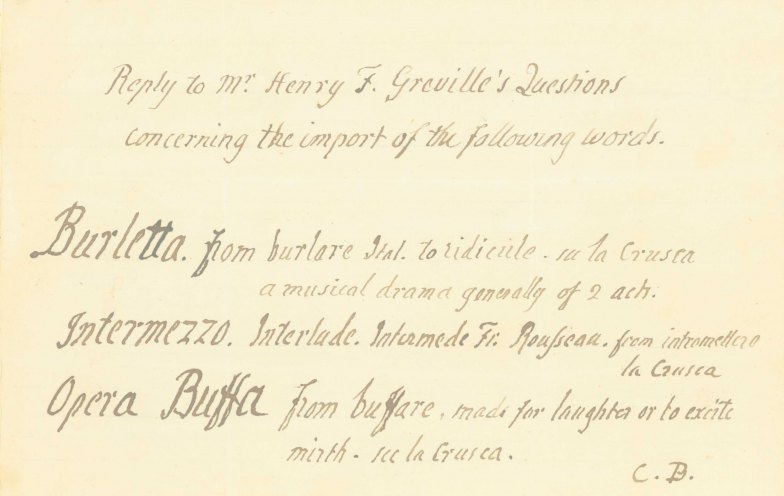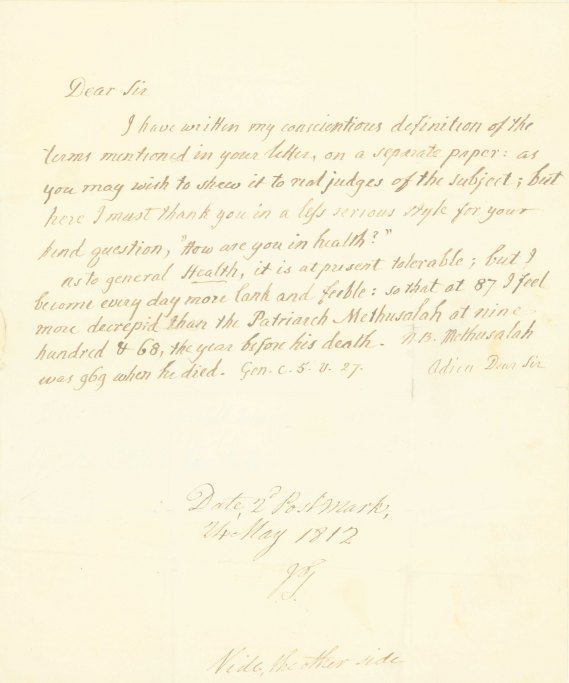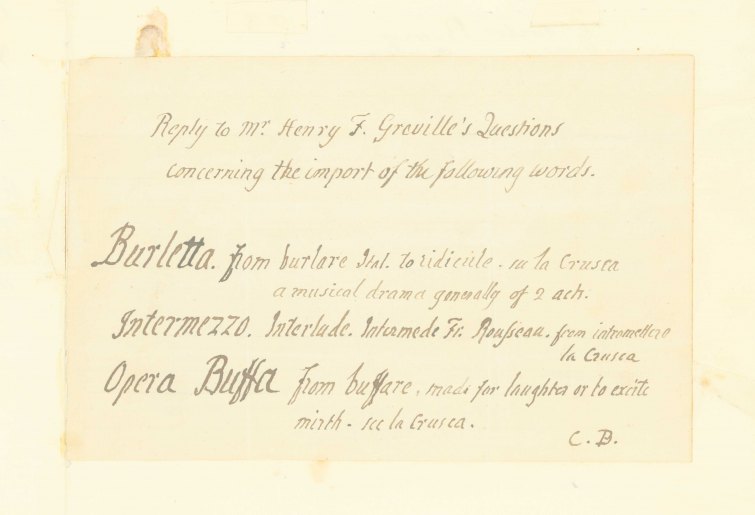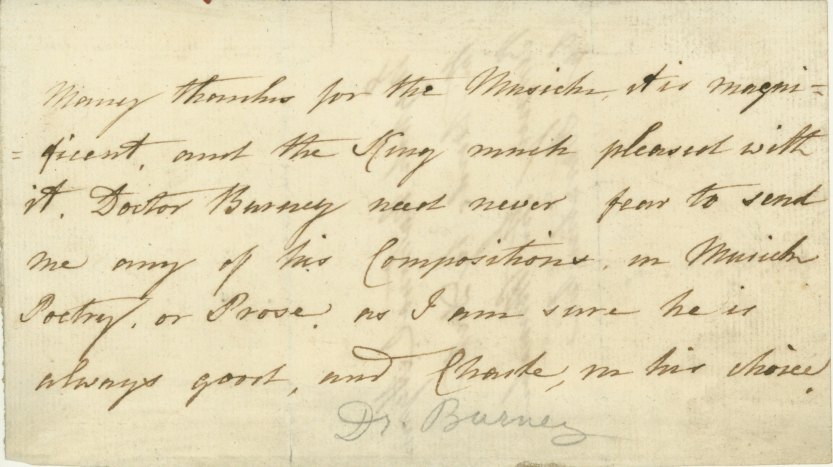 Burney, Charles (1726-1814)
Autograph Letter Signed
"C. B.". To Henry F. Greville, Esq. London, May 24, 1812. One page of a folded sheet with integral address and an additional small sheet pasted to the second page. Overall in very good condition with typical folds and some creasing. Minor points of separation at centerfold. One minor professional repair to recto of first page, affecting two words; two major professional repairs to verso of second page, seemingly to patch missing portions removed from former seal.
The pioneering music historian gives definitions of musical terms.
The English historian and composer writes in response to Henry Greville about the definitions of the musical terms burletta, intermezzo, and opera buffa, which he defines on a separate sheet signed C. B. at the bottom. This sheet, which Burney kept loose in case the recipient wished to shew it to real judges of the subject, has been pasted to the second page.
Burney, at this point an elderly man, also expresses his gratitude for Greville's inquiry about his health and comically observes: I become every day more lank and feeble: so that at 87 I feel more decrepid [sic] than the Patriarch Methusalah at nine hundred + 68, the year before his death. N.B. Methusalah was 969 when he died. Gen. C. 5. V. 27.
Sold together with a contemporary letter from an unknown correspondent stating: Many thanks for the Musick, it is magnificent, and the King much pleased with it. Doctor Burney need never fear to send me any of his Compositions, as Musick, Poetry, or Prose, as I am sure he is always good, and [?] as his choice.
Burney's association with the aristocratic Greville family began in 1746, when he undertook a three-year apprenticeship with Fulke Greville (1717-1806), a worldly and sophisticated man who engaged the young musician as an intellectual companion, helping him to forge useful professional relationships and hone his varietal talents. He was also the father of Henry Greville (1760-1816), the recipient of this letter.
Henry Greville was a twenty-year British Army veteran when he tried his luck as a theater impresario in the early 1800s. The venture quickly proved a great failure—so it is interesting that he would ask Burney for a definition of burletta in 1812, as this was one of the genres Greville had unsuccessfully produced just a few years before.
Charles Burney's final decade saw a number of new projects and appointments: in 1810 he began writing articles for Rees's Cyclopaedia, in 1810 he was appointed a Correspondant of the Institut de France Classe des Beaux-Arts, and throughout his last years he worked both on a memoir and on organizing his extensive correspondence and library. The library, as is well known, was sold to the British Museum at his request upon his death in 1814.
ALS-10973
$3,000