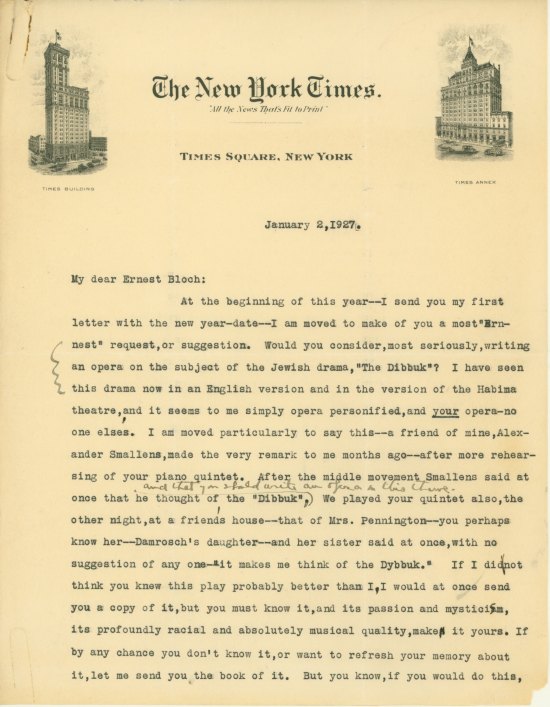 Click Image to Zoom
Enlarge Image
BLOCH, ERNEST - A REQUEST FOR AN OPERA
Downes, Olin (1886-1995)
Typed Letter of Major Musical Importance to Ernest Bloch Signed
"Olin Downes". New York, January 2, 1927. 3 pp. on New York Times stationery. Overall very good with normal folds and paper clip residue on top left corner.
Olin Downes writes to Bloch entreating him to consider
…a most 'Ernest' request, or suggestion. Would you consider, most seriously, writing an opera on the subject of the Jewish drama, 'The Dibbuk'? … it seems to me simply opera personified, and your opera - no one elses
[
sic
]
…if you would do this, I feel certain we could get a Metropolitan premier, and also the first great Jewish opera.
More personally, Downes writes later in the letter, like everyone else, I suppose, I have hours and sometimes days of frightful despondency. I must tell you that your noble quintet has helped me more than any one thing to get through them. It stirs me through and through; I cannot say which I admire most, the consuming emotion of this music, or the impregnable power of its structure…Please write me, and tell me you want to write that opera.
Olin Downes was the foremost music critic for the
New York Times
and a great advocate of the music of Jean Sibelius long before that composer found widespread acclaim.
The Swiss-born American composer Ernest Bloch held several teaching appointments in the United States, including at the Mannes School of Music, the Cleveland Institute of Music, and the San Francisco Conservatory of Music. Among his notable pupils he counted George Antheil, Frederick Jacobi, Quincy Porter, Bernard Rogers, and Roger Sessions.
ALS-10722
$300