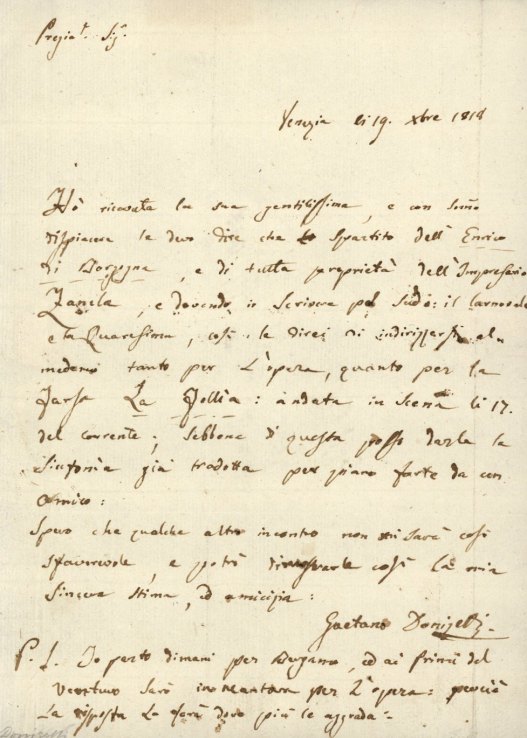 Click Image to Zoom
Enlarge Image
Donizetti, Gaetano (1797-1848)
Autograph Letter Signed
"Gaetano Donizetti". To "Giovanni Ricordi". Venezia, "li 19. xbre 1818" [Dec. 19, 1818]. One page of a folded sheet with integral address. Excellent; some creasing with two small pieces of tape residue on verso. With full translation.
A rare letter dating from a period of little extant Donizetti correspondence.
Using hasty language, the great bel canto composer tells his future publisher, Ricordi, that the rights to his opera Enrico di Bergogna belong to Impressario Zanela. Donizetti encourages Ricordi to write Zanela directly on the matter and suggests he also pursue the rights to La Follia, the overture to which is immediately available: I can give you the Sinfonia already arranged for pianoforte by a friend.
Enrico di Bergogna was the first of Donizetti's operas to see the stage; it premiered at the Teatro San Luca in Venice on November 14, 1818, just weeks before he wrote this letter. Its relative success led to the premiere of the farce—officially titled Una Follia—the following month at the same theater. (The impressario to whom Donizetti refers here may have been the theater's director.) Ricordi must have been uninterested or unsuccessful in securing the rights to Una Follia, though, as the score is now lost.
ALS-10441
$2,500