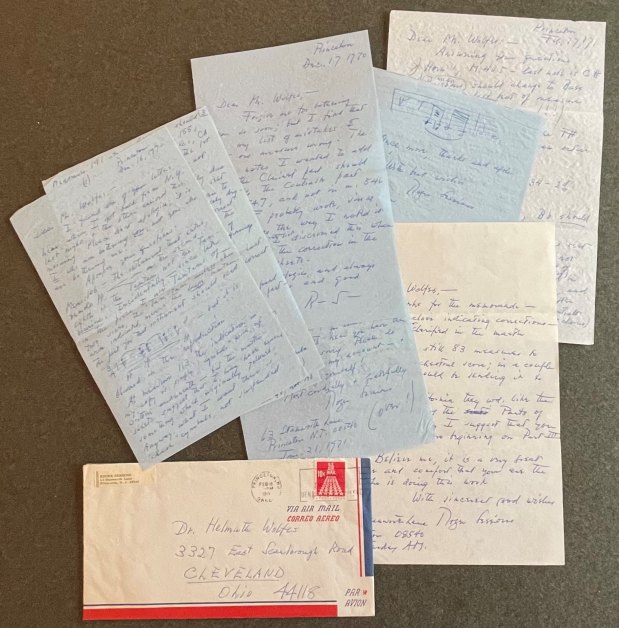 Click Image to Zoom
Enlarge Image
Sessions, Roger (1896-1985)
Seven Autograph Signed Letter
To Helmuth Wolfes. Princeton, December 1970 - February 1971. Octavo. 16 pp. total. With one envelope. In excellent condition with typical folds.
Important letters showing the composer's working methods.
A group of seven letters to conductor Helmuth Wolfes concerning the preparation of the score for a new work. Although Sessions does not mention the work by name, his description of the structure and orchestration suggests it is the large-scale cantata When Lilacs Last in the Dooryard Bloom'd (based on the poem by Walt Whitman). The cantata was commissioned by the University of California at Berkeley and premiered there on May 23, 1971. Sessions dedicated the work to the memories of Martin Luther King, Jr. and Robert F. Kennedy.
In each letter, Session writes to make corrections to the manuscript from which Wolfes is working, a score which was evidently sent prematurely when the ink was scarcely dry. He repeatedly apologizes to Wolfes for the inconvenience it has caused and offers his gratitude for Wolfes's careful work. The letters are signed Roger Sessions (5), R--- S--- (1), and R S (1).
Almost all of the letters contain Sessions's little sketches of staves to demonstrate the necessary changes to various measures and parts. Occasionally, Wolfes draws lines in red ink through the corrections, likely to keep track of those changes he had addressed in his score.
These letters do not appear in
The Correspondence of Roger Sessions
(1992).
At the time of this correspondence, the conductor Helmuth Wolfes was the music director of Karamu House in Cleveland, a position he held for 10 years. Karamu House, which still operates today, is the oldest African-American theater in the United States, having opened in 1915. It was the venue for several premieres of Langston Hughes's plays. Wolfes was undoubtedly interested in a performance of Sessions's When Lilacs Last in the Dooryard Bloom'd because of its dedication to two civil rights giants -- a dedication made all the more poignant by the text's history: Whitman's original poem was written as an elegy for Abraham Lincoln following his assassination.
ALS-09273
$1,500