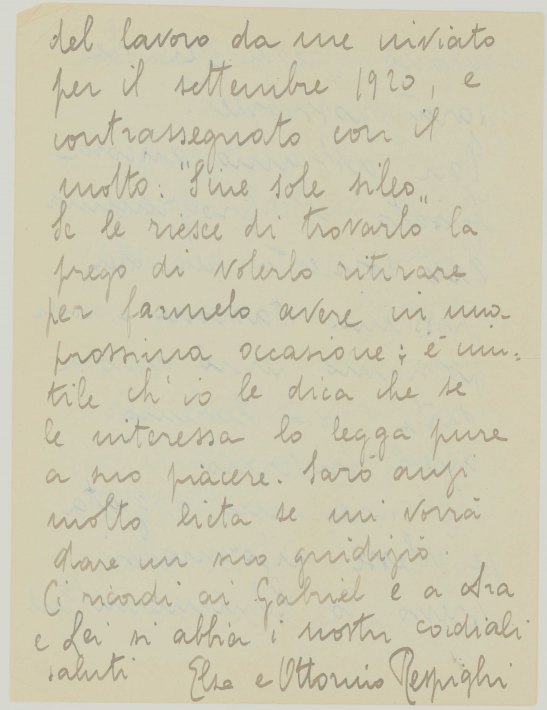 Enlarge Image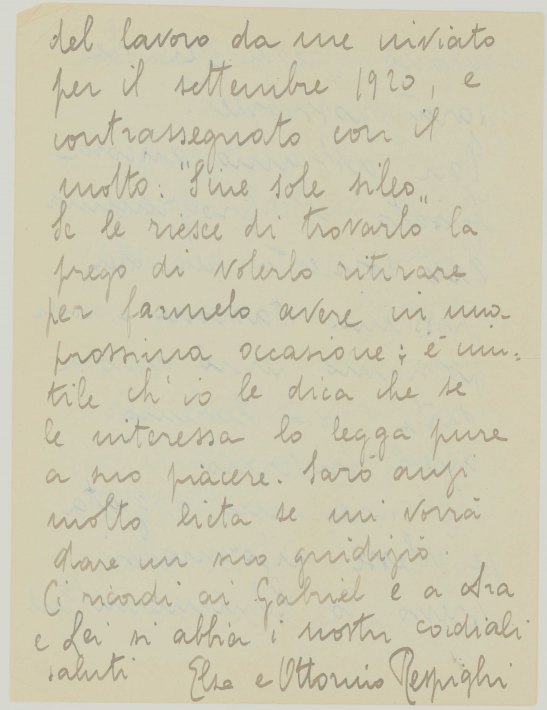 Respighi, Elsa (1894-1996)
Letter by Ottorino Respighi's Wife Signed
"Elsa" and additionally signed "Ottorino Respighi" in his handwriting. To Kurt Schindler. Bologna, August 11, 1921. Four pages of a small folded sheet. With envelope. In very good condition. Horizontal fold, just beginning to tear at each side (affecting three words in total). Original smudging to uppermost line of text. A little creased with minor folds to corners. With translation.
Italian composer Ottorino Respighi's wife, Elsa, writes to conductor Kurt Schindler to reestablish their correspondence and convey her enthusiastic interest in a visit to America, asking if it might be possible for her husband to secure a professorship there in
some good conservatory
.
She also asks if Schindler would retrieve a work that they sent to the Schumann Club in New York City. The work is unidentified, but the phrasing suggests it is something by Elsa, not Ottorino. She invites Schindler to read it and welcomes his opinion on it.
Elsa Respighi (neé Olivieri-Sangiacomo) met her husband while studying composition with him in Rome. It was not long after their marriage in 1919 that she abandoned her own ambitions to promote his career by organizing conferences, scheduling performances, and publishing books about and new editions of his music. She continued these activities long after Ottorino's death in 1936, and in the sixty years she outlived him, she also completed some of his unfinished compositions and founded the Fondo Respighi, to promote music education, in Venice.
ALS-05506
$150