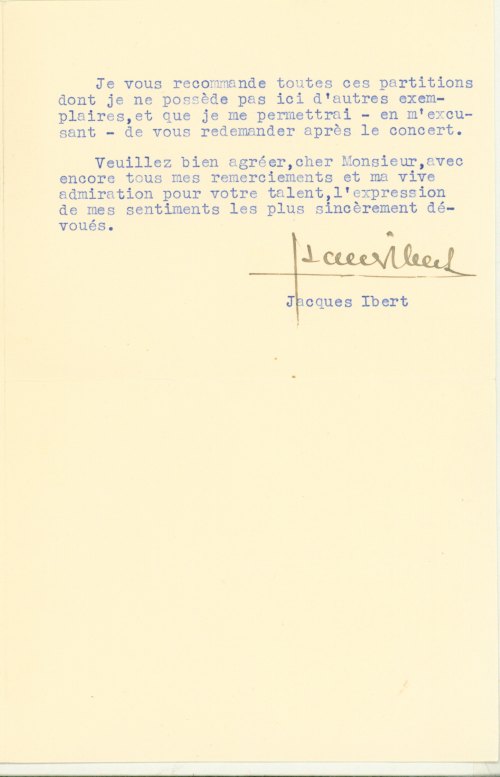 Enlarge Image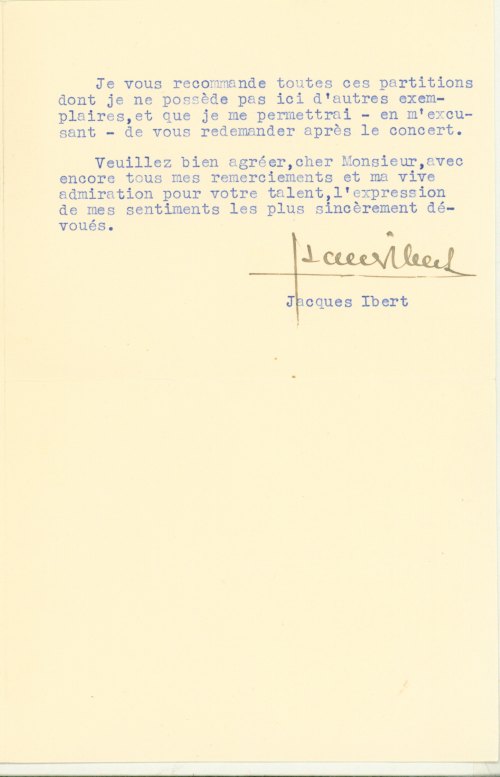 Ibert, Jacques (1890-1962)
Typed Letter Signed
"Jacques Ibert". To "Maestro Giorgio Ciompi". Villa Medici, Rome, "3 Mai I946". Two sides of a folded letterhead of the Académie de France a Rome. Fine. With envelope.
The French composer warmly expresses his gratitude and excitement to the Italian violinist Giorgio Ciompi, who has agreed to participate in a concert of Ibert's works in Venice later that month. The composer also discusses the programmed pieces, including a quartet, trio, and sonata, and humbly admits that I am a very mediocre pianist, and I could not myself play these pieces. Do you think you could find a suitable interpreter in Florence?
The war years were extremely challenging for Jacques Ibert: the Vichy government of occupied France banned his music in 1940 and he was consequently forced to abandon the directorship of the Académie de France in Rome in order to take refuge in Switzerland. This letter thus represents a particularly optimistic time in Ibert's career, as he resumed his duties in Italy and could again enjoy performances of his works.
ALS-01671
$325