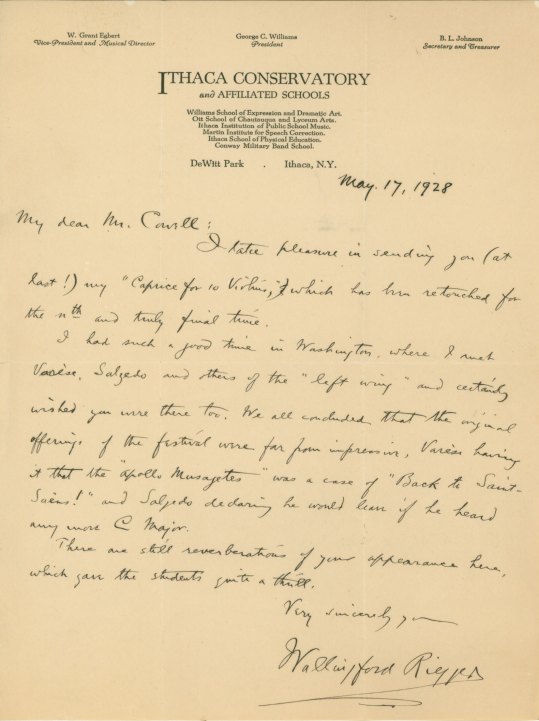 Click Image to Zoom
Enlarge Image
Riegger, Wallingford (1885-1961)
Autograph Letter Signed
"Wallingford Riegger". To Henry Cowell. May 17, 1928. 10.50" h x 8" w. 1 p. Fine condition.
An excellent letter with important musical content from Riegger to fellow American composer Henry Cowell, sending Cowell the final version of Riegger's Caprice for 10 violins. Riegger comments that he has just returned from a festival in Washington, D.C., where he met Varèse, Salzedo, and others of the "left wing". The offerings of the festival were disappointing, with Varèse remarking that Apollo Musagetes "was a case of 'Back to Saint-Saens!'" and Salzedo declaring that he would leave if he heard any more C Major. This must have been either the premiere or near-premiere of Stravinsky's Apollo Musagetes, as it was first performed in Washington at the Library of Congress in April 1928 (and the letter was written on May 17, 1928).
Riegger has an important place in twentieth-century American music, both as a composer and as a teacher. As a cello student, he was a member of the first graduating class of what was to become the Juilliard School, and he was one of the first American composers to adapt Schoenberg's twelve-tone technique.
ALS-01669
$300