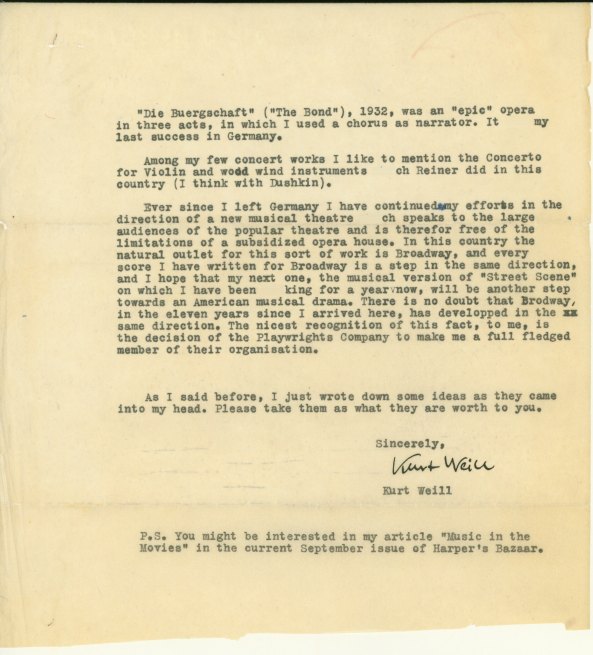 Enlarge Image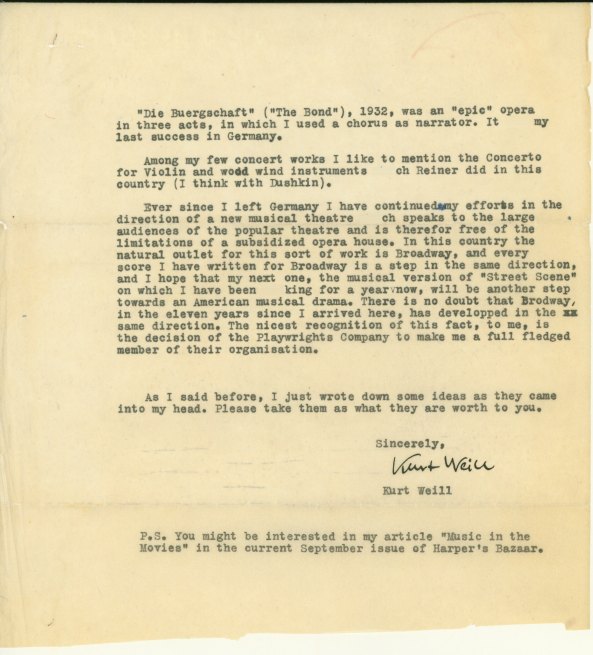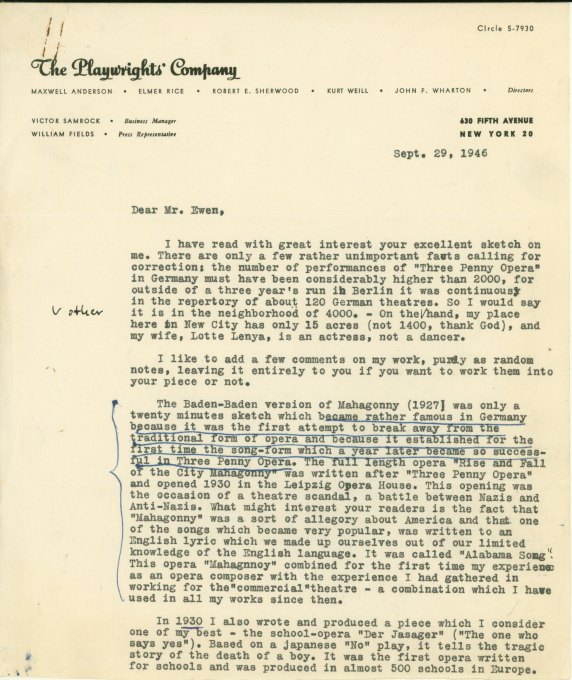 Weill, Kurt (1900-1950)
Typed Letter Signed
"Kurt Weill". Sep. 29, 1946. First page on letterhead of The Playwrights' Company; second page on onionskin paper. Two pages. The overall condition of the letter is fine except for frayed margins along both edges of the second sheet and the remains of stapling and a paperclip mark on the very upper left. Both sheets have been cropped at the bottom.
An exceptional and important letter regarding biography and compositional and performance history.
Writing to the American musicologist David Ewen, Weill corrects proofs for a biographical dictionary (the number of performances of "Three Penny Opera" in Germany must have been considerably higher than 2000...) and offers some "random notes on my work": the Baden-Baden version of Mahogony (1927) was only a twenty minutes sketch which became rather famous in Germany because it was the first attempt to break away from the traditional form of opera and because it established for the first time the song-form which a year later became so successful in Three Penny Opera....
Weill also addresses the influence of the Nazis on the premiere of his Rise and Fall of the City of Mahagonny: This opening was the occasion of a theatre scandal, a battle between Nazis and anti-Nazis. What might interest your readers is the fact that "Mahagonny" was a sort of allegory about America and that one of the songs which became very popular, was written to an English lyric which we made up ourselves out of limited knowledge of the English language. He adds that the opera combined for the first time my experience as an opera composer with the experience I had gathered working for the "commercial" theatre.
Weill then writes of his continued...efforts in the direction of a new musical theatre which speaks to the large audiences of the popular theatre and is therefore free of the limitations of a subsidized opera house. In this country the natural outlet for this sort of work is Broadway, and every score I have written for Broadway is a step in the same direction... In closing he hopes that his musical version of 'Street Scene'...will be another step towards an American musical drama.
There is one handwritten correction in Weill's hand, inserting the word "other" into the phrase "on the hand" in the first paragraph. There is also underlining and a bracket around the second paragraph, presumably in the hand of Ewen.
David Ewen published over 85 books on music. The biographical sketch Weill corrects here is probably the entry for the revision of Music Comes to America, written in 1942 and revised in 1947.
ALS-01409
$3,000