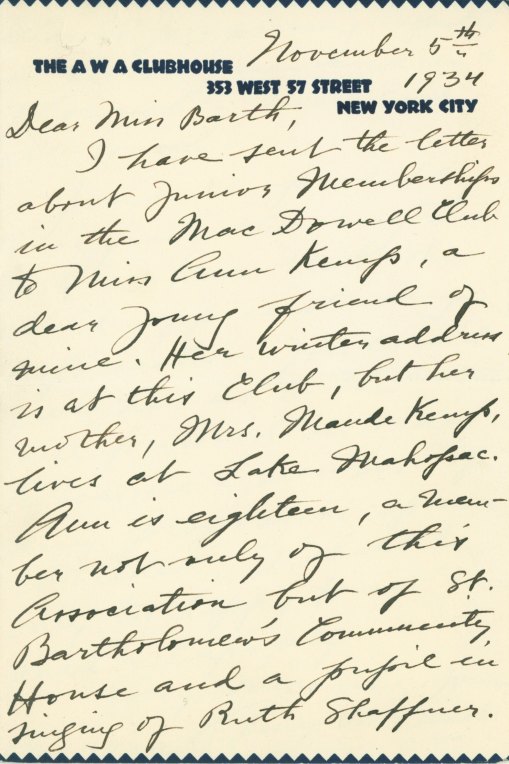 Enlarge Image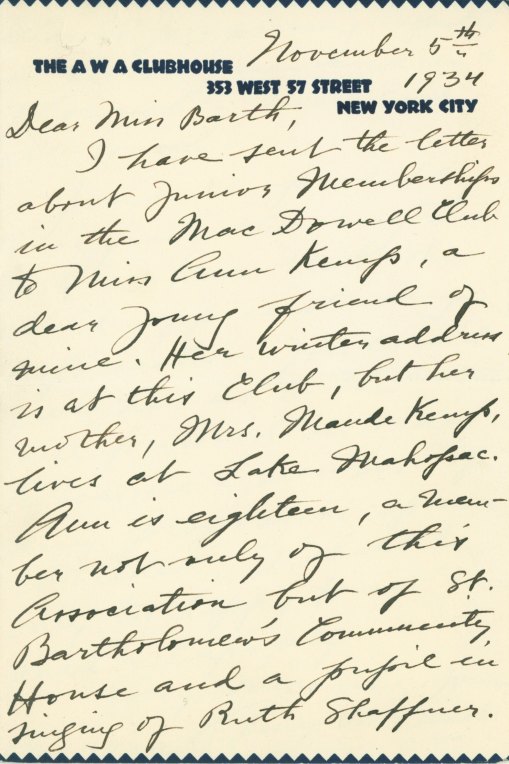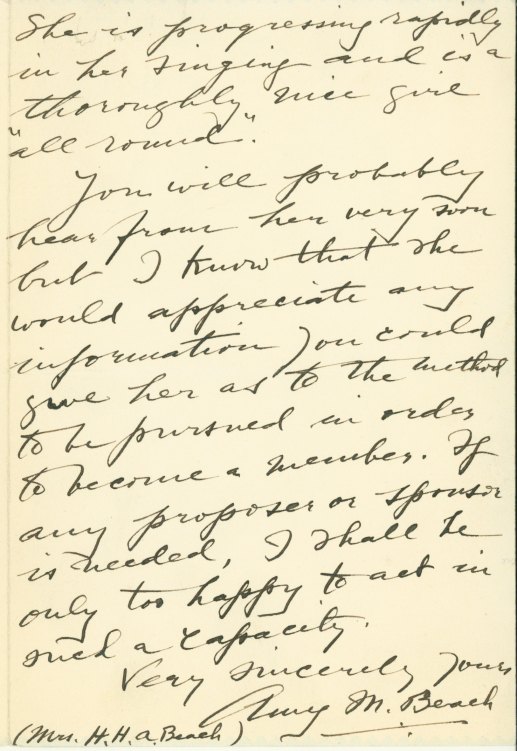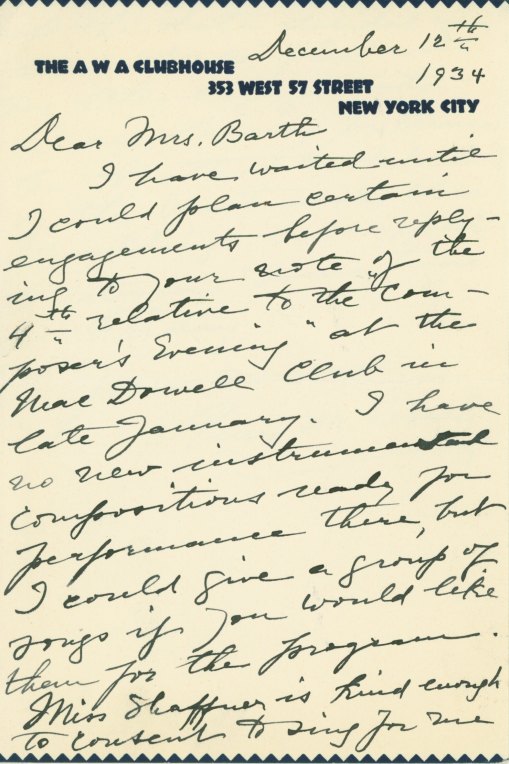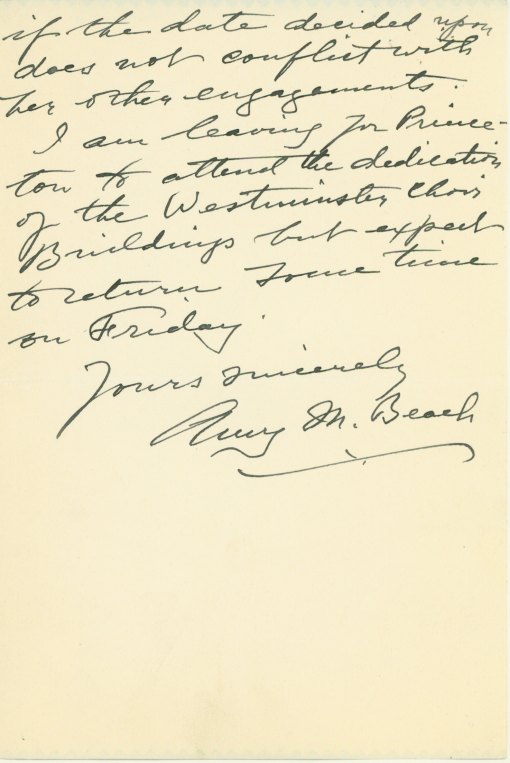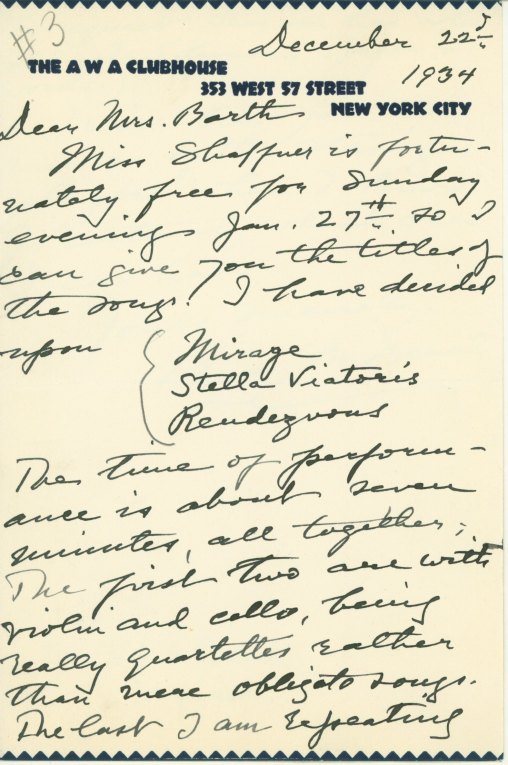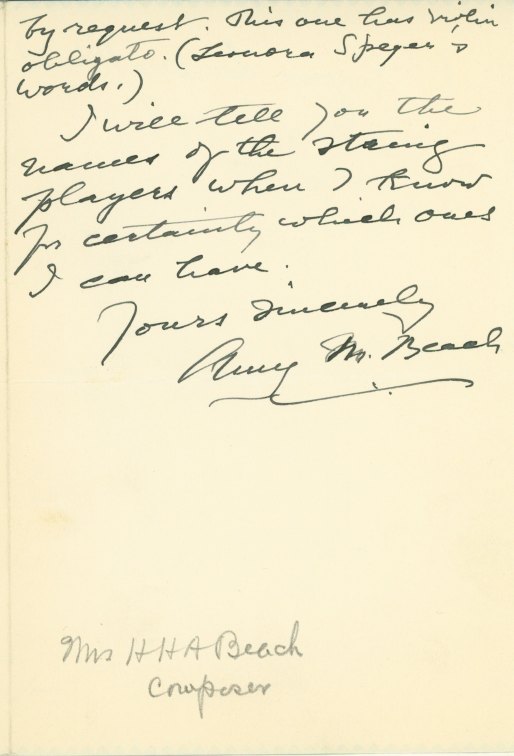 Beach, Amy (1867-1944)
Three Autograph Letters Signed
"Amy M. Beach". To "Mrs. Barth". New York, November-December, 1934. Three letters on folded stationery of the American Women's Association Clubhouse. Excellent condition. (Staple holes at top of first letter; imprint of paper clip at top of second; some pencil markings on third).
Three letters from the noted American composer on a number of musical topics.
In the first letter, dated November 5, 1934, Beach writes concerning a young singing student, Ann Kemp, who seeks a junior membership with the MacDowell Club. In the second letter, dated December 12, 1934, Beach writes that she has no new instrumental compositions ready for the upcoming "Composer's Evening" at the MacDowell Club and offers some songs instead.
In the third letter, dated December 22, 1934, Beach provides the titles of three songs that a Miss Shaffner will sing, presumably at the concert mentioned in the previous letter: I have decided upon Mirage / Stella viatoris / Rendezvous. The time of the performance is about seven minutes, all together. The first two are with violin and cello, being really quartettes rather than mere obligato songs. The last I am repeating by request.
Amy Marcy Cheney Beach was one of the most respected composers and pianists of her time. Among her many accomplishments was her Gaelic Symphony, the first symphony to be written and published by an American female composer. She regularly promoted the careers of aspiring female musicians, as she does in the first letter here, and in her will left all of her royalties to the MacDowell Colony.
ALS-01285
$750