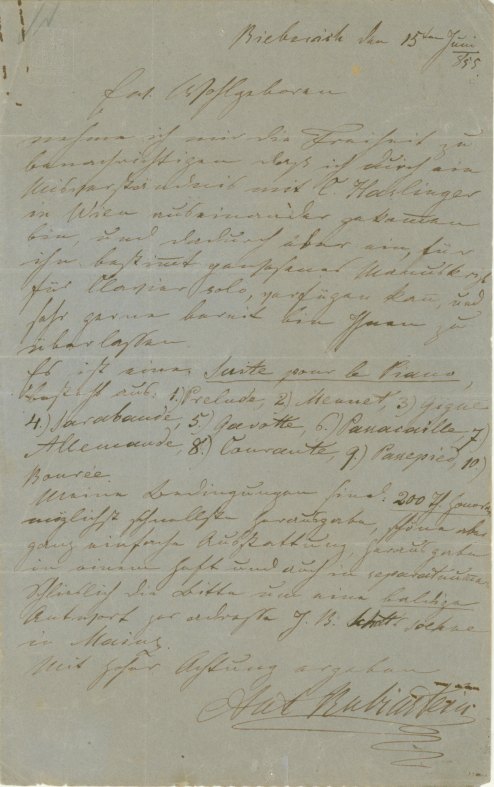 Click Image to Zoom
Enlarge Image
Rubinstein, Anton (1829-1894)
Autograph Letter Signed
"Ant. Rubinstein". To J. B. Schott & Son. Bieberich, June 15, 1855. 1 p. of a folded sheet. In German. With full English translation. In good condition. On thin paper with creasing. Small tears at right and bottom margins and paper clip residue at top left corner (none affecting).
Writing to J. B. Schott & Son in Mainz, Rubinstein offers a piano suite for publication following a disagreement with his old publisher:
I take the liberty to inform you…that following a misunderstanding, I parted from C. Haslinger in Vienna and I therefore can dispose of a score for piano solo which I gladly let you have.
After listing the work's movement titles, Rubinstein presents his terms:
200 Thalers fee, quickest possible publication, pretty but simple layout, publication in book form and also as a separate issue. Finally the request for a quick answer
.
Schott would accept Rubinstein's proposal and published his Piano Suite, op. 38, the following year.
Rubinstein tended to publish his music both in Russia and in Europe. Because Russia did not adhere to any international copyright laws, he could make double the money offering his works through publishers at home and abroad. No fewer than 21 publishers printed Rubinstein's music in the course of his career.
Rubinstein wrote this letter while on his first extended concert tour, which took him all over Europe between 1854 and 1856. The unqualified success of his performances ensured he returned home to Russia as one of the leading pianists of the day.
ALS-01241
$450