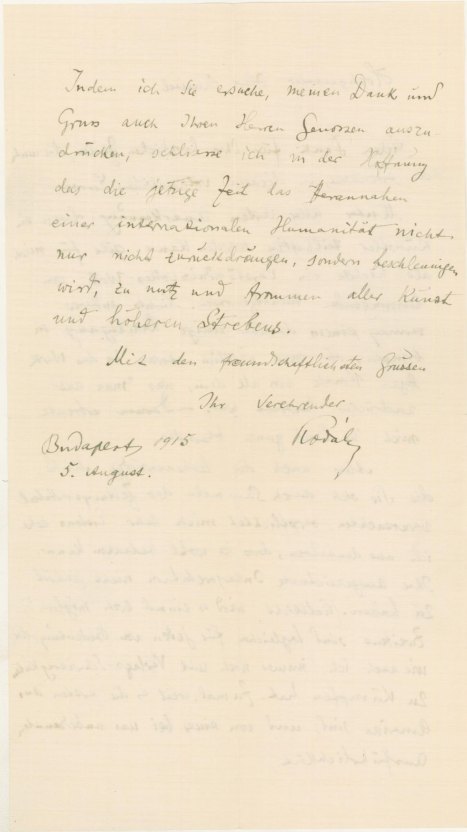 Enlarge Image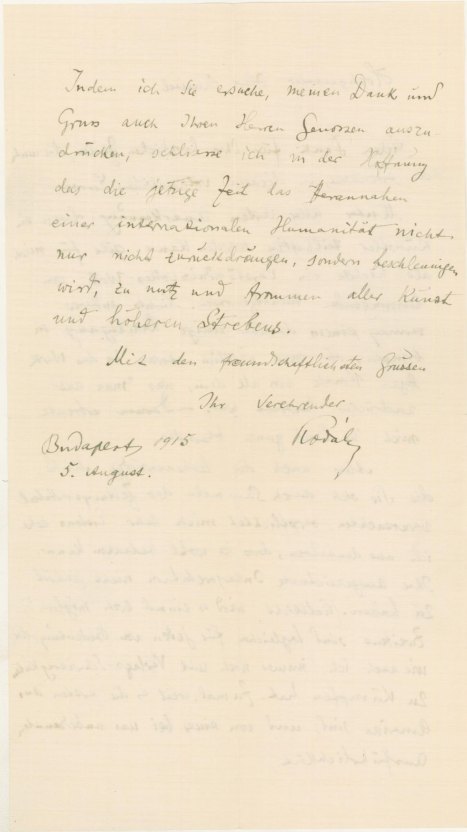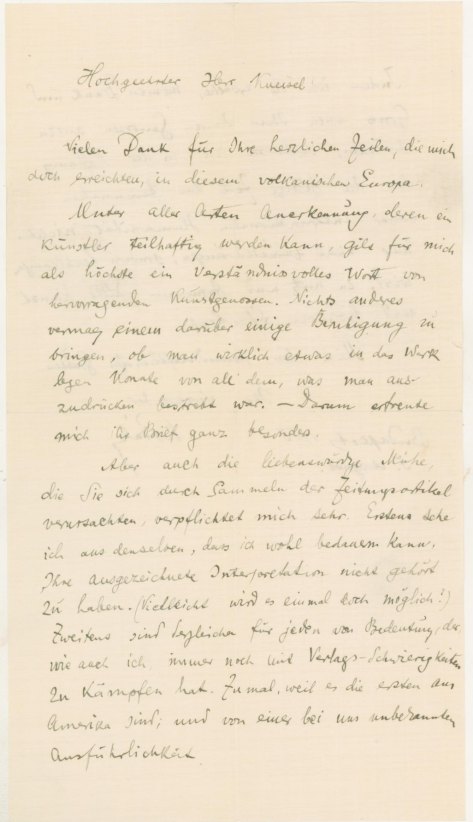 Kodály, Zoltán (1882-1967)
Autograph Letter Signed
"Kodály". To Franz Kneisel. Budapest, August 5, 1915. Quarto. 2 pp. In German with full English translation. In very good condition. Typical folds and tiny tear right margin (not affecting).
Writing to Franz Kneisel with meaningful content.
The Hungarian composer thanks American violinist and pedagogue Franz Kneisel for some recent praise: Of all manner of recognition that an artist can receive, the most meaningful to me is the appreciative word of a distinguished fellow artist. Kodály also acknowledges receipt of some reviews of a concert at which Kneisel performed his music: I am also indebted to you for going to the trouble of collecting the newspaper articles… [T]hese are of significance for everyone, who like me, still has to do battle with publication difficulties.
Kodály's opening and closing salutations reference the ongoing war. He notes that Kneisel's heartfelt lines… did reach me in this volcanic Europe and hopes the approach of an international humanitarianism will not only not be repressed, but will be accelerated for the benefit of all art and all higher aspirations.
This letter encapsulates the challenges Kodály faced during this period of his career. Although by 1915 an active composer with a post at the Academy of Music, Kodály had yet to enjoy a major public success. This owed partly to his shy nature and partly to the turbulence of the times. (The war also stifled his promising folksong research with dear friend and fellow Hungarian composer Béla Bartók). His luck would change shortly after the conflict ended, however, with the premiere of his choral work Psalmus Hungaricus in 1923.
ALS-01219
$700