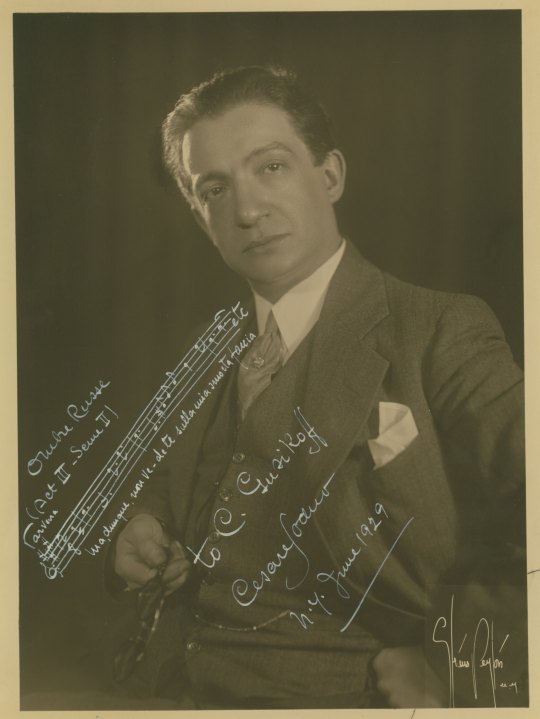 Click Image to Zoom
Enlarge Image
Sodero, Cesare (1886-1947)
Photo With Autograph Musical Quotation
, signed "Cesare Sodero". Total measurement of 14" h x 11" w. Pristine condition, laid down on heavy stock.
Remarkable sepia portrait of Italian conductor and composer Cesare Sodero, inscribed in white ink to C. Gusikoff in New York, dated January 1929. The quote is a 4-bar excerpt from Act II, Scene 3 of his only opera Ombre Russe, which premiered the same year.
Italian conductor and composer Cesare Sodero had a successful and lucrative career as a conductor in recordings and radio when he made his belated Metropolitan Opera debut in 1942, stepping into the breach to fill a shortage of capable Italian conductors during World War II. He had studied composition with Giuseppe Martucci in his native Naples and performed as a cellist before beginning his career as a conductor, promoting Italian symphonic music. After conducting opera in Chicago, Sodero became music director of the New York Recording Department of Thomas A. Edison, Inc., where he conducted a number of famous recordings, including some of the finest by Claudia Muzio. He moved on to radio, and it was at NBC that his opera Ombre Russe was first heard in 1929 (the stage premiere followed in 1930 in Venice). His Met performances won him acclaim, and they included a legendary 1945 performance of Rigoletto with Björling, Sayao and Warren, recently reissued by the Met.
PHO-11280
$250