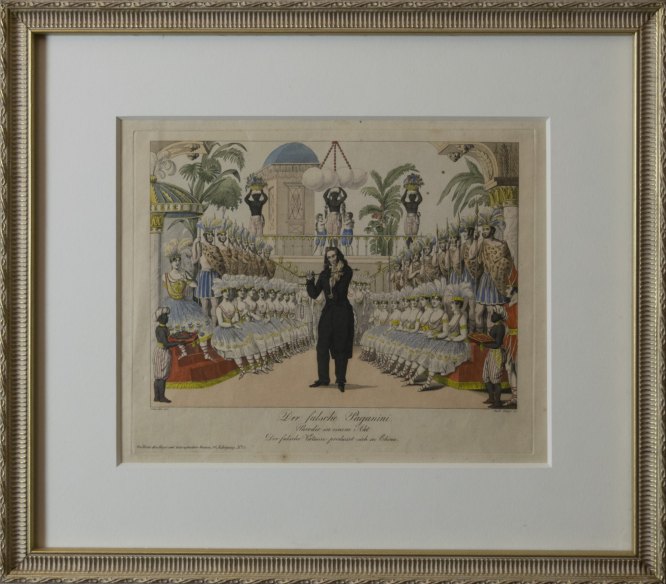 Click Image to Zoom
Enlarge Image
Paganini, Niccolò (1782-1840)
Rare Engraving Of A Paganini Impersonation.
1831. 8.5" h x 11" w to the plate. Total size in frame: 15.50" x 17.75" w. Overall fine condition with the exception of a few very minor blemishes and slight toning of the margins.
A colored copperplate engraving entitled "Der Falsche Paganini" ("The False Paganini") by Andreas Geiger (1765-1856) after Johann Christian Schoeller (1782-18510). The engraving depicts a comic actor named Wilhelm Just in a one-act impersonation of Paganini called "Der falsche Paganini/Parodie in einem Akt/Der falsche Virtuose produzirt sich in China". The production was a revival of a popular one-act farce by Adolf Bäuerle entitled "Die Falche Primadonna in Krähwinkel", written originally as a take-off on the singer Catalani. The play was produced in Breslau during Paganini's first German tour in 1829.
Apparently there was some sort of a clash between Paganini and the German public, engendered probably by a misunderstanding at his first concert in Breslau, given at the University; an unpleasant episode developed with students shouting and booing because they thought he was not performing according to the requirements. (for a full account of this, see de Courcy, Vol. I, p. 348). It was after this that "Der falsche Paganini" appeared, to be followed by yet another parody, this one written by a friend of Wagner, Heinrich Laube (under pseudonym of W. Campo), who was the editor of the
"Zeitung für die Elegante Welt"
. It was called "Niccolò Paganini" and again Wilhelm Just performed. We do know that Paganini attended at least one performance and apparently enjoyed it: according to the Frankfurt correspondent of "The Harminicon"
Just mimic[s] The Italian Virtuoso to a T. Paganini, instead of attempting to cut the poor mimic's throat, as most of your sensitive artists would have done, had the good taste, not to say good sense, to attend one of these performances and join in the general laugh with the best grace in the world."
This engraving is extremely rare. This is the first time in almost forty years that we have seen a copy.
GPH-11240
$600