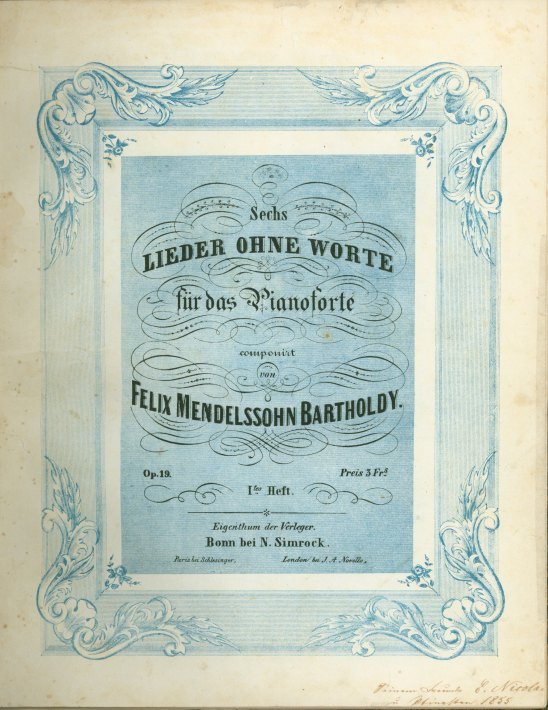 Enlarge Image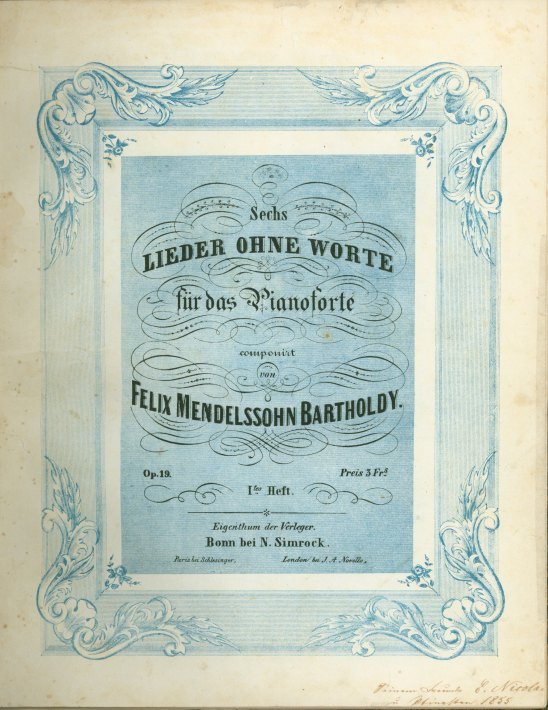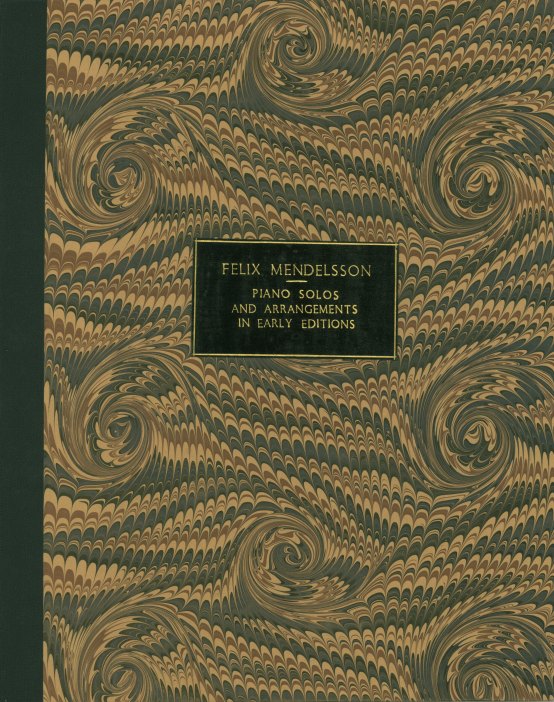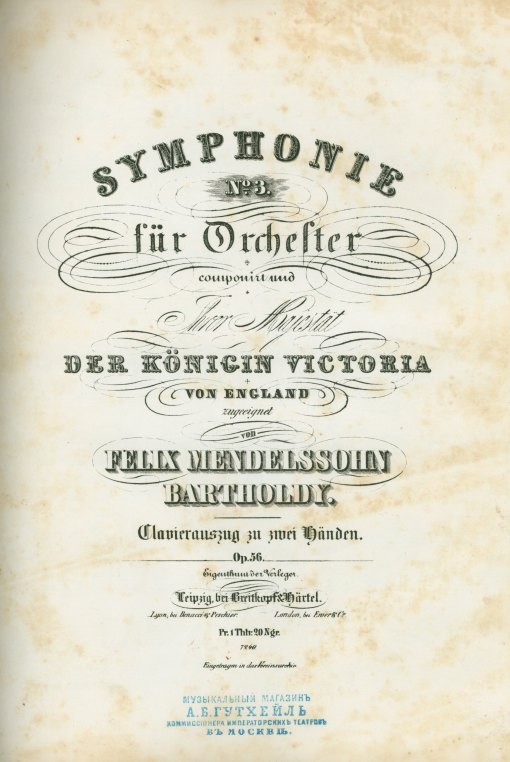 LIEDER OHNE WORTE, OPP. 19B, 30, 38
Mendelssohn, Felix (1809-1847)
Lieder Ohne Worte, Opp. 19b, 30, And 38; Capriccio Brillante, Op. 22; Symphonie No. 3 Für Orchester, Clavierauszug Zu Zwei Händen, Op. 56.
Quarto. 17 + 17 + 19 + 19 + 39 pp. With bookplate of Canadian organist and musicologist Hugh McLean on inside front cover. Handsomely bound with modern marbled paper boards, buckram spine, and leather label. Occasional spotting and light staining but overall in good condition except as noted below.
A collection of piano pieces and arrangements by Mendelssohn, all first or early editions and bound together, including three sets of his beloved
Lieder ohne Worte
. The volume contains:
Lieder Ohne Worte: Heft I (op. 19); Heft II (op. 30); Heft III (op. 38). Bonn: N. Simrock [1833-1837]. 17 + 17 + 19 pp. Pl.n 3041; 3204; 3383. All first editions, later issues. Engraved. Overall in very good condition. Some foxing throughout. Minor tape repair to last page of op. 30; water stain to title page of op. 38. Inscriptions at bottom right-corner of each title page and very occasional fingering markings in pencil.
Capriccio brillante, op. 22. [Piano part only.] Leipzig: Breitkopf und Härtel [c. 1831?]. Title page not present; paginated 3-19. Pl.n 5286. Likely first edition. Engraved. Overall in good condition. Professional tape repairs to several margins and a little thumb wear and spotting throughout.
Symphonie No. 3 für Orchester, op. 56. Clavierauszug zu zwei Händen. Leipzig: Breitkopf und Härtel [c. 1845?]. 39 pp. Pl.n 7249. Likely first edition. Engraved. Some spotting and a little ink transfer throughout, but overall a very good copy. This is one of several piano arrangements of the symphony published by Breitkopf und Härtel in the 1840s.
MUS-14505
$600