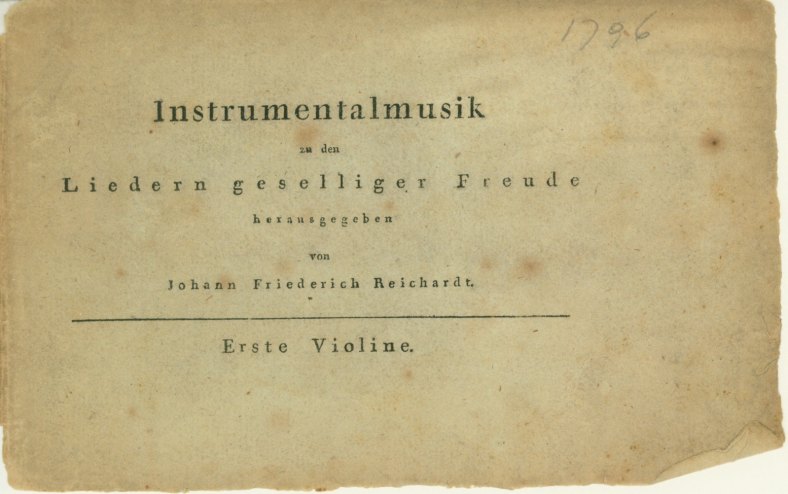 Enlarge Image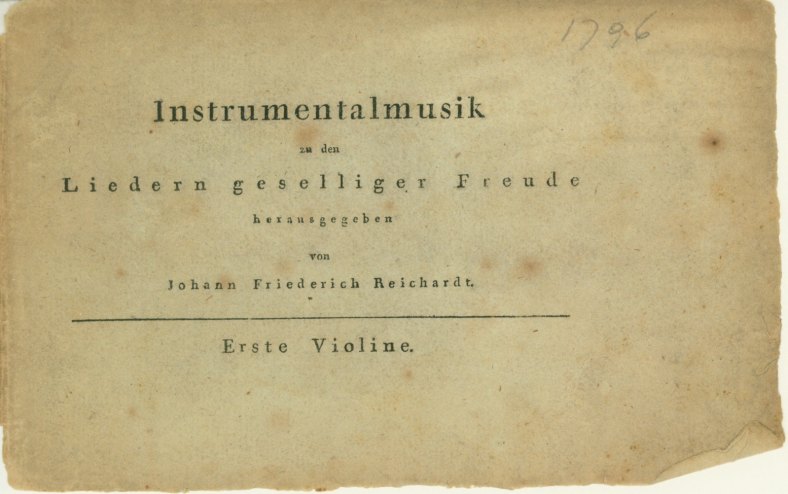 Reichardt, Johann Friedrich (1752-1814)
Instrumentalmusik Zu Den Liedern Geselliger Freude Herausgegeben Von Johann Friederich Reichardt. With Parts.
Leipzig, [1796-97]. Oblong octavo. 48+46+42+16+16pp. Each part with 6pp. intro. and 6pp. Index. Unbound (some pages uncut), in paper wraps with original silk ties. Occasional light foxing and soiling on part covers but otherwise crisp and fine.
A rare little volume of music for two violins, cello (or bassoon) and two horns. The individual pieces in the violin parts indicate suggested wind parts (e.g., clarinet, oboe & flute an octave higher) . The introduction explains that "these hundred melodies …of convivial joy…have been enhanced by adding instrumental parts," that the string instruments are used throughout but that the music is arranged so that it can be played with those alone, although specific pieces are appropriate to particular instruments. It also notes that the bass part duplicates the bass of the piano accompaniment. "Diese Einhundert Melodien gehören den sanbarsten fröhlichen Liedern unserer beliebtesten Dicter und Komponisten an, wie das Verzeichniss näher basagt. Man hat durch die Herausgabe der Sammlung Lieder geselliger Freude für den Gesang und das Clavier zu Verbreitung des besseren Gesanges und zu angenehmer Belebung guter Gesselschaften beizutragen gesucht und hoft dieses durch die hiedurch hinzugefügte Instrumentalmusik um so sichere zu erreichen."
Reichardt had an early reputation as a violinist, keyboard player and lutenist. Although he had a varied career which included journalism and composing operas, it is as a song writer that he was most appreciated. Indeed, he wrote over 1,500 lieder and no less than Mendelssohn had great admiration for him. He had close friendships with both Schiller and Goethe, many of whose texts he used as settings for his songs.
MUS-10567
$1,200