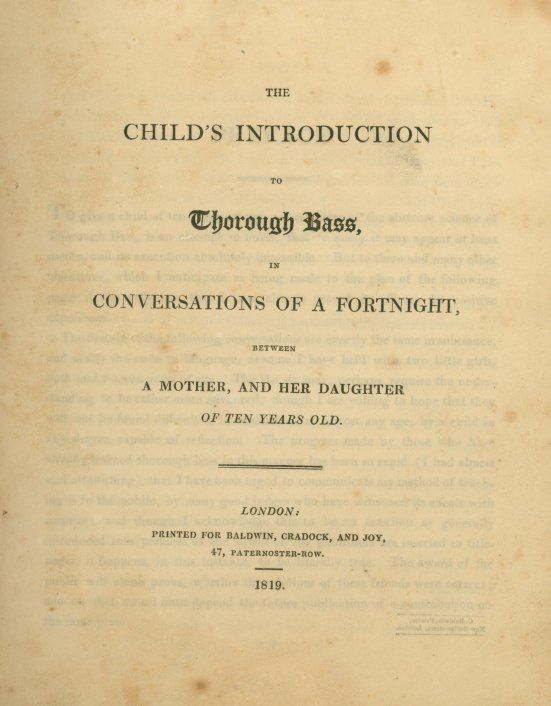 Enlarge Image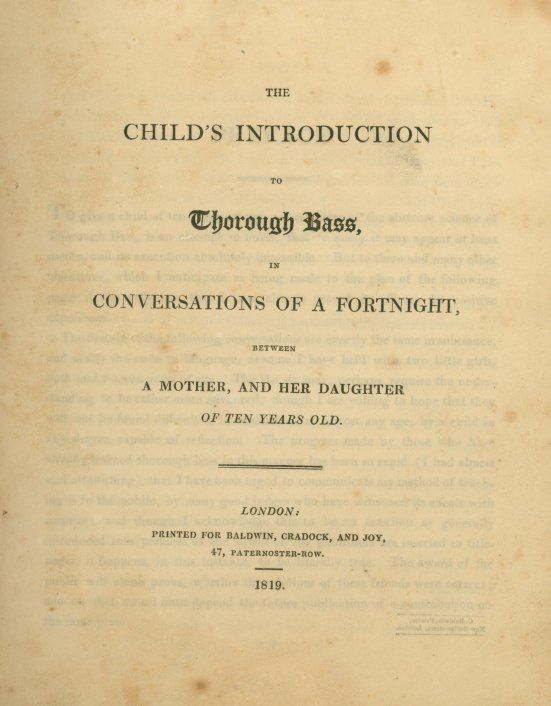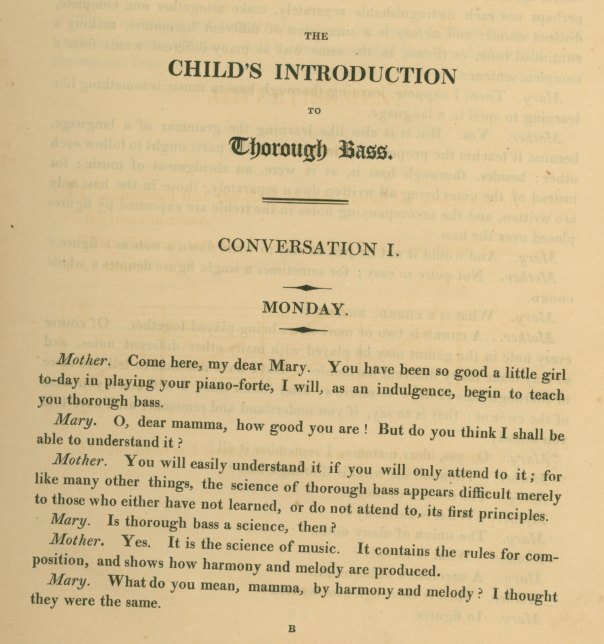 CHILD'S THOROUGH BASS METHOD
Kilner, Dorothy (1755-1836)
The Child's Introduction To Thorough Bass, In Conversations Of A Fortnight, Between A Mother, And Her Daughter Of Ten Years Old.
Baldwin, Cradock, and Joy: London, 1819.

First Edition

. Small quarto. 96 pp. Quarter bound with marbled boards. Spine heavily rubbed and corners bumped. Some staining and ink transfer throughout but overall very good condition, especially for a used children's book. Former owner's inscription on inside front cover.
The conversation very endearingly begins with the mother inviting the child to learn:
Come here, my dear Mary. You have been so good a little girl to-day in playing your piano-forte, I will, as an indulgence, begin to teach you thorough bass.
In the preface, Kilner acknowledges that thorough bass may seem too sophisticated a topic for such a young audience, but asserts that she has had overwhelming success with her approach: The progress made by those who have already learned thorough bass in this manner has been so rapid (I had almost said astonishing), that I have been urged to communicate my method of teaching it to the public.
Dorothy Kilner was a prolific author of children's books, writing under the pseudonyms M. P. (as she does in this method) and Mary Pelham throughout much of her career. Her many didactic stories, like most children's literature of the eighteenth and early nineteenth centuries, aimed to promote morality in young readers.
MTH-14503
$250