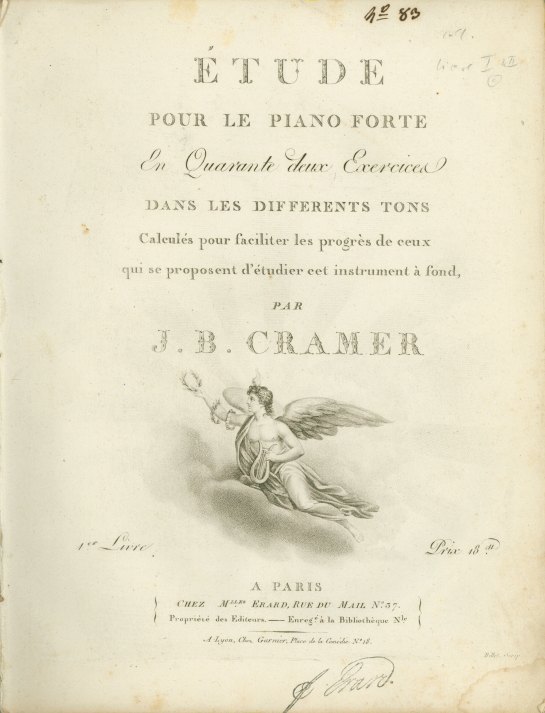 Click Image to Zoom
Enlarge Image
Cramer, J.B. (1771-1858)
Étude Pour Le Pianoforte En Quarante Deux Exercices Dans Les Differents Tons. 1er Livre.
Erard: Paris, 1804. PN 450. Milligan p. 53. First French Edition. Quarto. 81 pp. Fine. First two pages detached. Disbound with water stain at bottom of first 12 pages. Dealer stamp on title page.
A very nice copy of the first book of exercises, which was issued the same year as the first edition. It is sold together with a bound copy of later editions of both books:
Etude pour le Pianoforte en quarante-deux Exercices dans les differents tons...Livre I and II. E.H.G. Christiani: Berlin, 1828. Pl.n 47 (Volume I), 48 (Volume II). Miligan p. 51. Engraved. Oblong quarto. 37 + 43. Marbled boards, heavily rubbed. Fair. Staining, chipping, and minor repairs throughout; two pages in Vol. 1 with damage to right side, including a missing measure on p. 3. Occasional stamp in margins of Cleveland Institute of Music. The binding order is also a little odd: the second book precedes the first and some exercises are out of order (the second book contains some exercises belonging to the first and vice versa).
MTH-06766
$85