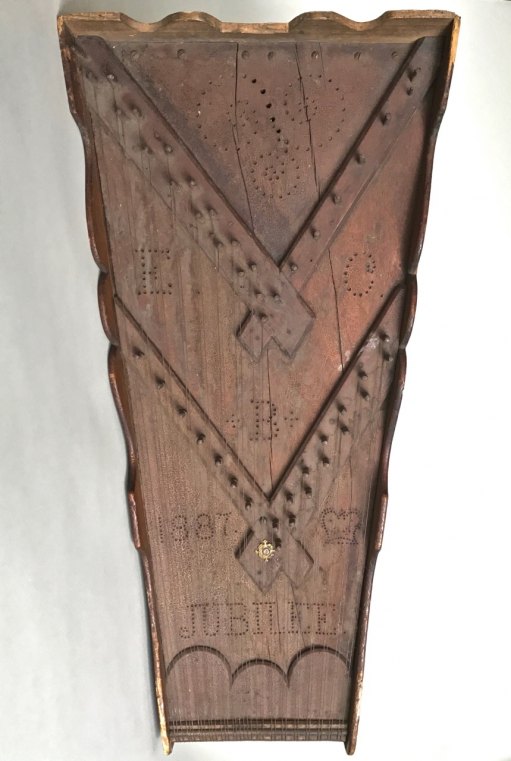 Click Image to Zoom
Enlarge Image
ZITHER - "BOX OF BELLS"
Blagdon, Eli Colman
Interesting Piece Of English Folk Art.
1887. 30" long (76.2 cm) by 15" (38.1 cm) at the wider end and 8.5"(21.6 cm) at the shorter end. Height is from 4" to 8" (20.3 cm). Edges rubbed, wood dry with some crackling to outside painted surface. Several cracks in soundboard.
The instrument has raised scalloped edges. On the table, in perforated holes above and beneath the crossbars for the string attachments, are the initials "E C B", the date 1887, a crown and the word "Jubilee". The bottom of the instrument bears the inscription, presumably by the maker: This Box of Bells was/ made by Eli Colman Blagdon /Taunton in the Queens Jubilee/ Year 1887. At the other end, another inscription reads: bought by J. Poole 1888. The lower crossbar has a small square gilt ornament positioned at its base. The instrument is in its original hinged case with the painted initials of the former owner.
This instrument is evidently based on the bell harp which was a box zither invented by John Simcock of Bath in the mid-18th century and which was kept in swinging motion while playing. This instrument, however, being quite heavy, was probably played on a table. Although much larger than a traditional bell harp, like the bell harp, it would have been played using one's thumbs and the sound, indeed, has a bell-like quality.
INS-08364
$850