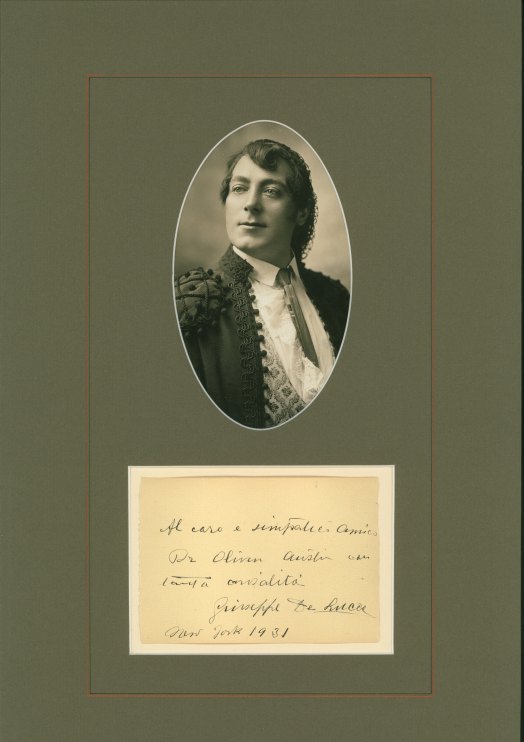 Click Image to Zoom
Enlarge Image
De Luca, Giuseppe (1876-1950)
Ensemble With Signature & Photo As Escamillo.
Total measurement of 18.25" h x 12" w. Very good condition.
Full signature with affectionate greeting In Italian to New York physician and opera fan Dr. Oliver Austin, dated "New York 1931". In an oval mat with a Mishkin portrait of De Luca as Escamillo in Bizet's Carmen.
The Italian baritone Giuseppe De Luca spent most of his career at the Metropolitan Opera, singing leading roles there between 1915 and 1930. Roman by birth, he studied with the same teacher who taught Battistini and Ruffo, and made his operatic debut in 1897. His voice was not large, but it was evenly produced, and the elegance of his singing made him an imposing figure on the stage. During the time he sang at La Scala (1902-10), De Luca created the role of Sharpless in the world premiere of Puccini's Madama Butterfly. At the Met, he was a dominant figure in the Italian and French repertoire, and he created the title role in Gianni Schicchi in the Met's 1918 premiere of Puccini's Il trittico. Other roles De Luca created in world premiere performances include Michonnet in Adriana Lecouvreur, the Marquess in Massenet's GrisÚlidis and Sancho Panza in Massenet's Don Quichotte (opposite Chaliapin in the title role). Toscanini is said to have called him "absolutely the best baritone I ever heard."
SIG-09065
$135