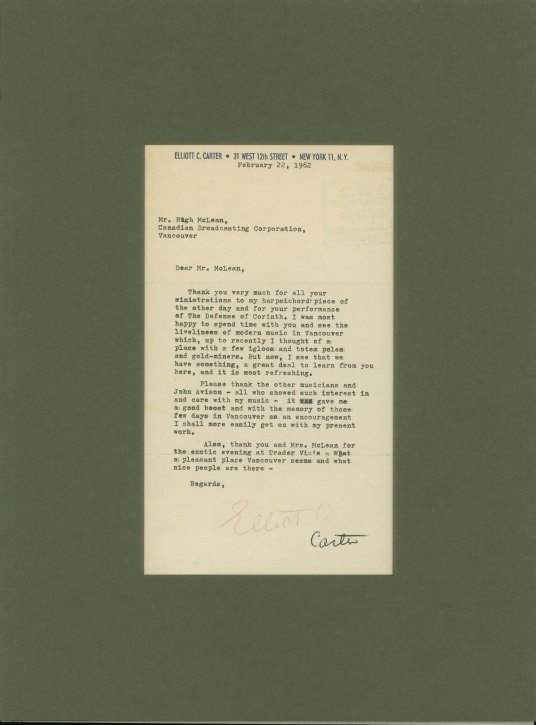 Click Image to Zoom
Enlarge Image
Carter, Elliott
Typed Letter Signed
"Elliott Carter". To "Mr. Hugh McLean". New York, Feb. 22, 1962. Matted with a total size of 15.25" h x 11.25" w. One page on personal letterhead. Excellent condition although laid down on cardboard (trace of embossed mark from verso). Carter has twice signed his last name, clearly having run out of ink.
The eminent American composer thanks his host for the ministrations to my harpsichord piece of the other day and for your performance of The Defense of Corinth. I was most happy to spend time with you and see the liveliness of modern music in Vancouver which, up to recently I thought of a place with a few igloos and totem poles and gold-miners. But now, I see that we have something, a great deal to learn from you here, and it is most refreshing... Carter goes on to thank the other musicians who participated in the performance.
Hugh McLean (1930-2017) was a Canadian organist and musicologist. He regularly appeared in recital with the Canadian Broadcasting Company and performed the Canadian premieres of several major organ concertos, including those by Barber and Hindemith.
ALS-14395
$400