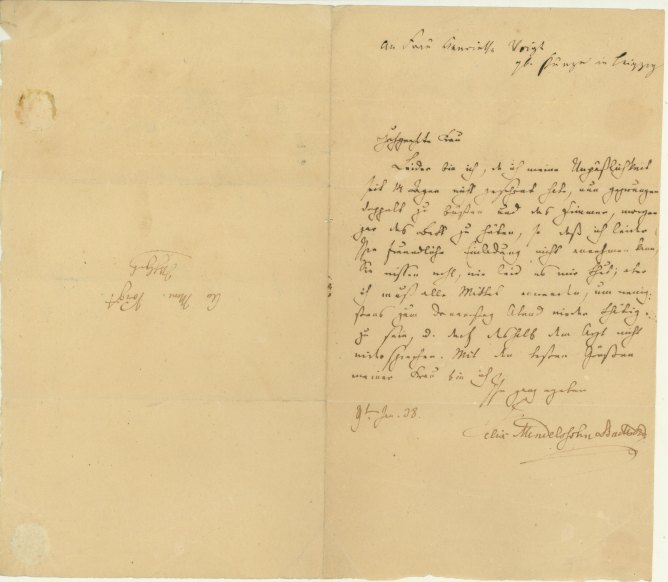 Click Image to Zoom
Enlarge Image
Mendelssohn, Felix (1809-1847)
Autograph Letter Signed
"Felix Mendelssohn Bartholdy". To Mrs. Henrietta Voigt, nče Kunze. Leipzig, Jan. 7, 1838. A single page of folded small beige letter paper with integral address leaf. Excellent condition. Together with transliteration and translation.
A lovely single-page example from the great composer written from Leipzig where, during the season of this letter, 1837-38, he offered "the so-called 'historical concerts', a kind of history of music in sound. In four concerts he introduced listeners to music from the time of Bach to their own day...Not only was forgotten music revived but contemporary composers were encouraged." (Grove X)
Mendelsohn has been ill and writes that he has to stay indoors tomorrow, probably taking to my bed, which means that I cannot accept your kind invitation. Surely you know how sorry I am, but I have to do all I can to be active again...
Together with a letter from Mrs. Sigfried Kahn giving the Mendelssohn letter to Edwin T. Rice, author of Musical Reminiscences and father of Helen Rice, the founder of the Association of Chamber Music Players in 1947.
ALS-14147
$3,500