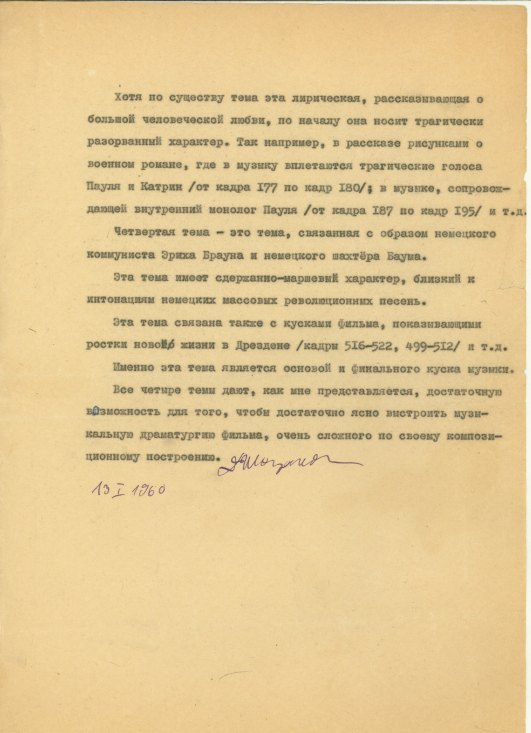 Enlarge Image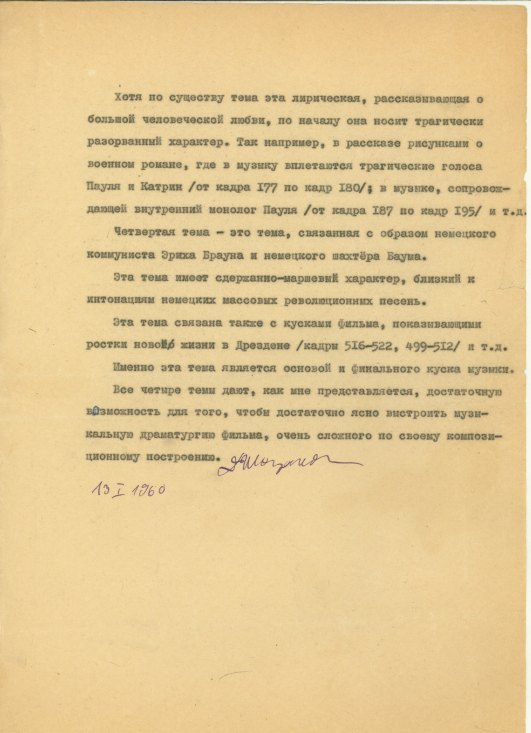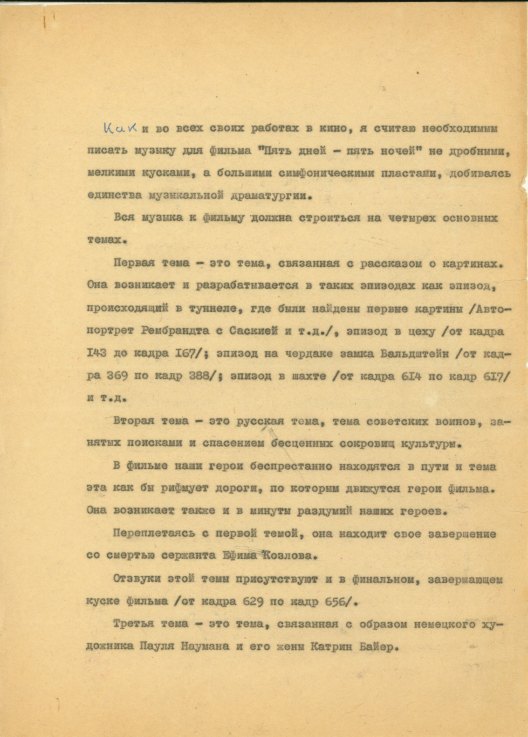 Shostakovich, Dmitri (1906-1975)
Typed Letter Signed
"D. Shostakovich". January 13, 1960. 2 pp. In very good condition with typical folds and a little toning. Some wrinkling throughout and imprint from paperclip at top of both pages. Minor chips and small tear to right margin of both pages (affecting only one letter of typed text). With full English translation.
Shostakovich writes about his film music.
The great Russian composer writes in Cyrillic about the composition of the music for the 1960 film Five Days, Five Nights, which tells the story of a German soldier who returns to Dresden and helps a group of Soviet soldiers recover the Old Masters Gallery paintings from the ruins of the Zwinger Palace.
Shostakovich describes how he approaches the composition of a film score: As in all my works in the cinema, I consider it necessary to write music… not in fractional, small pieces, but in large symphonic layers, achieving the unity of musical drama.He describes in extensive detail the four themes he has written for the film, concluding that all four themes provide, it seems to me, a sufficient opportunity to quite clearly build the musical drama of the film, which is very complex in its compositional construction.
Although known for composing his film, theater, and ballet scores at a very fast pace and without the care he bestowed upon his symphonies and operas, Shostakovich's comments in this letter evidence a certain thoughtfulness in his approach to the score for
Five Days, Five Nights
. The film was directed by Lev Arnshtam, a fellow Russian who had helped Shostakovich rebuild his reputation following attacks from the Soviet government in 1948. Even a decade later, the scoring of patriotic films such as this one helped Shostakovich to preserve his ever-tenuous good standing with Soviet officials.
The Old Masters Gallery is a collection of about 750 paintings dating from the fifteenth to eighteenth centuries that includes major Renaissance works by Italian, Dutch, and Flemish painters. The collection was confiscated by the Red Army in 1945 and returned to Germany in 1955, although hundreds of works were (and remain) missing. Five Days, Five Nights favorably portrays the Russian intervention and was the first film to be co-produced by the Soviets and East Germans. The release of the film also roughly coincided with the reopening of the gallery in 1960.
ALS-12519
$1,750