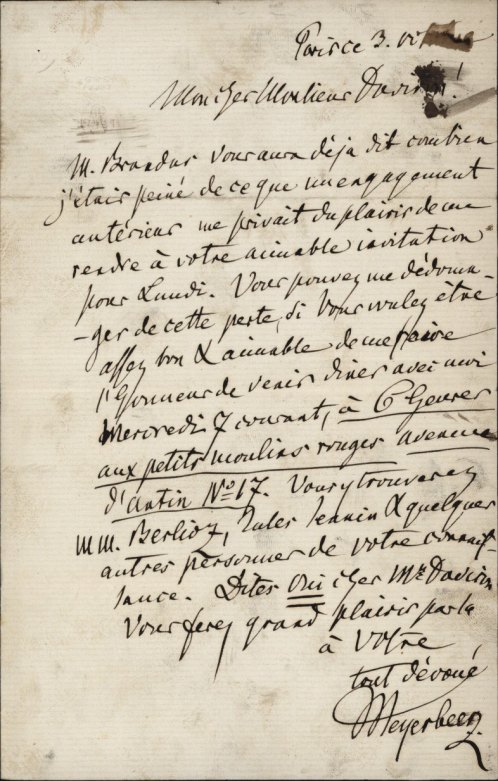 Click Image to Zoom
Enlarge Image
Meyerbeer, Giacomo (1791-1864)
Meyerbeer Organizes A Dinner For Music Critics, Including Berlioz
, signed "Meyerbeer". To "Mon cher Monsieur Davison". Paris, 3 vi [?]. 1 p. of a folded sheet with Meyerbeer's embossed crest. With translation. Some ink blotching on date and salutation, and a little soiling, but overall very good. With translation.
Meyerbeer writes to James William Davison (1813-85), the influential English music critic, about a dinner he is organizing at the "petit moulin rouge." He hopes the recipient will come and says that, "you will also find the gentleman Berlioz, Jules Jeanin and a few other people of your acquaintance."
Although Meyerbeer mentions "Jules Jeanin" he must be referring to the author Jules Janin, who was the noted drama critic and colleague of Berlioz at the Journal de Débats. Janin wrote the lyrics for Berlioz's song, "Chant de Chemins de Fer." Berlioz, besides being a composer, was an avid writer about music and supported himself for many years as a critic.Formerly in the collection of Arturo Toscanini.
ALS-05438
$500