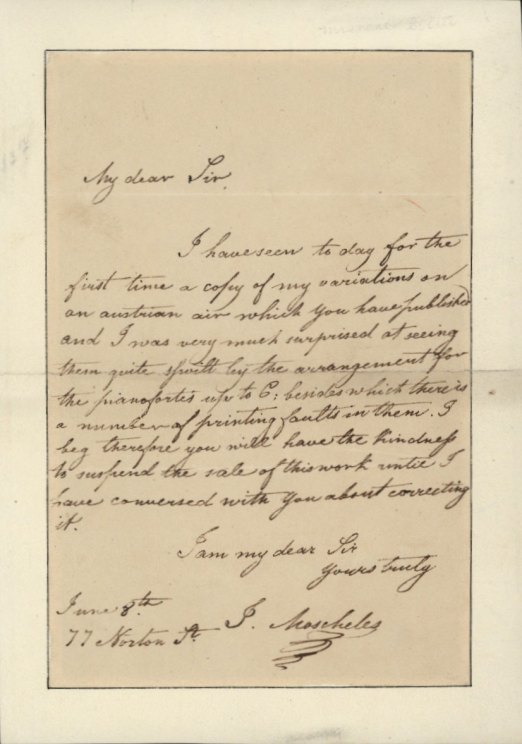 Click Image to Zoom
Enlarge Image
Moscheles, Ignaz (1794-1870)
Autograph Letter
, signed "I. Moscheles". June 8. 1 p. Fine, early inlay onto another sheet of paper, horizontal crease from folding.
Moscheles writes in English to an English publisher:"I have seen today for the first time a copy of my variations on an Austrian air which you have published and I was very much surprised at seeing them quite spoilt by the arrangement for the pianoforte up to C: besides which there is a number of printing faults in them. I beg therefore you will have the kindness to suspend the sale of this work until I have conversed with you about correcting it."
Moscheles was one of the the best pianists of his day and along with Thalberg and Liszt, a strong proponent of the Velocity School. He is particularly well-known for his friendships with Beethoven and Mendelssohn, and went on to succeed Mendelssohn as head of the Leipzig Conservatory upon the younger composer's death in 1847. He was not only a widely-played composer, but extremely influential throughout Europe and England.The only English edition of the "Variations on an Austrian Air" (Op. 42) that we have been able to identify is listed by the British Library as c. 1835. The work was first published by Artaria in Vienna in 1818.Note that Moscheles has a charming way of making his capital i's as a G clef.
ALS-01233
$375